The START group aims to ignite a fire within young entrepreneurs and encourage them to reach their goals and full potential. Isagenix and the START team are continually evolving and improving a variety of tools to equip Associates to fulfill this vision.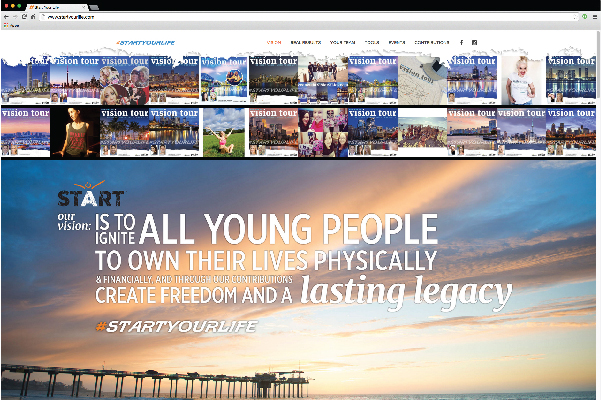 The updated STARTYourLife.com website is the newest START tool.
"The new STARTYourLife.com is so much easier to use," says Erik Coover, Senior Vice President of Global Field Development. "It helps you stay compliant, lets you download the latest tools to share the vision, and gives you all the information you need to help new members get started. Don't just visit the new site; dive in."
What's New?
With a fresh look, the sleek, new site has more features and tools than ever before.
"Experience START" videos help you spread the vision with your family and friends.
Incredible transformation photos and success stories provide inspiration.
Team member videos help connect you with fellow Associates.
START 1000 recognition helps you keep tabs on the growing number of START members.
Meet and connect with START Ambassadors.
Download "Experience START" presentation templates to help you host your own event.
Listen to START members share their stories and their expertise in the START podcast catalog.
Search the global events map to connect with team members and grow your experience.
Connect
If you're not already a member of the START Facebook group, now is the time to join in the global community of team member support. Follow the team's Instagram for inspiring photos and motivational content.
Catch the Vision
Ready to get STARTed? Join the team, connect with fellow START members, and learn from the START Ambassadors at the START Vision Tour event near you. Check it out February 8-11, 2016
Monday – February 8
Phoenix, Arizona – hosted by Erik Coover and Cayla Craft
Woodbridge, New Jersey – hosted by Zach and Eden Slobin and Ciji Siddons
Portland, Oregon – hosted by Laura Stevens and Kelley Dickerhoof
Sydney, Australia – hosted by Anna and Morgan Richards
Tuesday – February 9
Minneapolis, Minnesota – hosted by Cayla Craft and Emily and Hayden Vavra
Miami, Florida – hosted by Ciji Siddons and Jason Lew
Denver, Colorado – hosted by Laura Krulish and Journey Henkart
Melbourne, Australia – hosted by Mara Pomana and Jackson Parr
Wednesday – February 10
San Diego, California – hosted by Zach and Eden Slobin and Laura Krulish
Chattanooga, Tennessee – hosted by Audrye Moss and Laura Stevens
Toronto, Ontario – hosted by Jason Lew and Danielle and Ross Thompson
Perth, Western Australia – hosted by Jackson Parr
Thursday – February 11
Calgary, Alberta – hosted by Journey Henkart, Audrye Moss, and Erik Coover
Gold Coast QLD, Australia – hosted by Mary Hardy and Jacob Leaf
Auckland, New Zealand – hosted by Ben Kelly

Don't miss your chance to share Isagenix and the START community with others. Register now, and get your friends in on the opportunity to rise above the status quo by connecting a life filled with passion to a future full of possibility.
To find specific details and purchase your tickets, go to IsagenixEvents.com before they sell out!