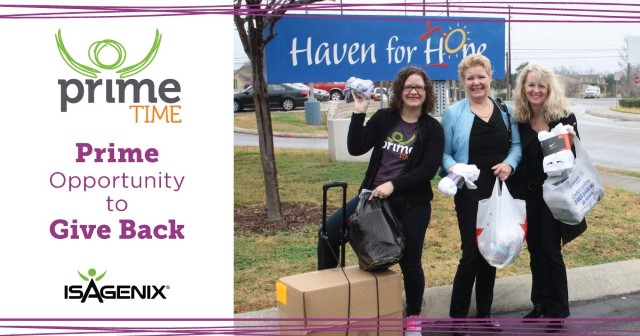 Prime Time was created to give Isagenix Associates who are interested in living healthy, long lives a voice within the organization. While Prime Time spent its first few months finding its footing, the movement is now making a huge impact in Isagenix and around the world.
"We knew we had this group that wanted to connect with each other on a deeper level," says Patty Raphael, Isagenix Senior Vice President of Sales and Marketing Operations. "We asked them what they envisioned for Prime Time, what they hoped to accomplish as a group, and what they wanted to get out of it individually."
Collectively, the group made decisions about overall goals, vision, and purpose. During these discussions, it became clear there was a deep, shared desire among the members to help others.
"The Contribution core value is a huge deal to this group," Patty explains. "So it was clear right away that part of Prime Time's purpose would be developing creative ways to incorporate that value into group activities."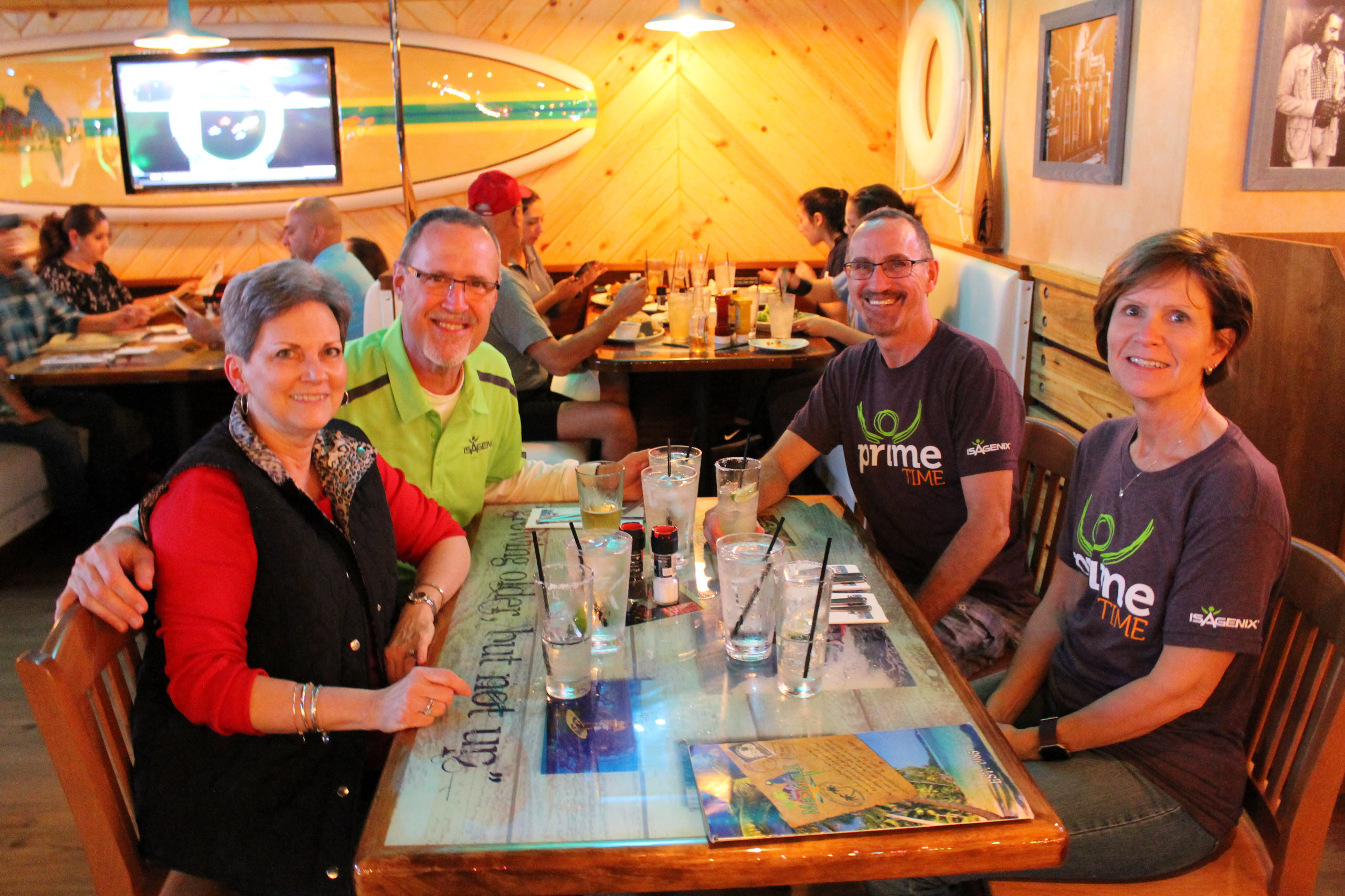 With planning for 2017 New Year Kick Off (NYKO) already in high gear, members brainstormed via conference calls and Facebook posts to plan a San Antonio Prime Time event with a purpose beyond networking.
"We wanted NYKO to be more than another convention," shares Isagenix Associate and Prime Time member Patricia Creppin. "We wanted to give something back to the city, to thank them for their hospitality."
The Big Idea: Helping San Antonio's Homeless
Sharing common goals and ideals is one of Prime Time's strengths. After discussing a few ways to give back, the group quickly agreed that they wanted their event to benefit a homeless shelter.
Prime Time member Shawn Keith reinforced the idea when he shared with the group that he had actually been homeless.
"Homelessness is something you don't ever really think is going to happen to you. In reality, it's something that could easily affect any one of us," says Patricia. "A series of tragedies can occur that you have no control over. And if you don't have the resources to pick up the pieces quickly enough, you can lose everything."
Good Fun, Warm Hearts, and Warm Toes
While Prime Time members made plans to meet at Jimmy Buffet's Margaritaville during the week of NYKO, Lisa Ceballos, Marketing Program Specialist for Isagenix and coordinator of the Prime Time event, made arrangements to set up a "Sock It to 'Em" sock campaign at the restaurant. She also coordinated post-event delivery of the socks to San Antonio's Haven for Hope, a shelter that serves as many as 1,500 people each day.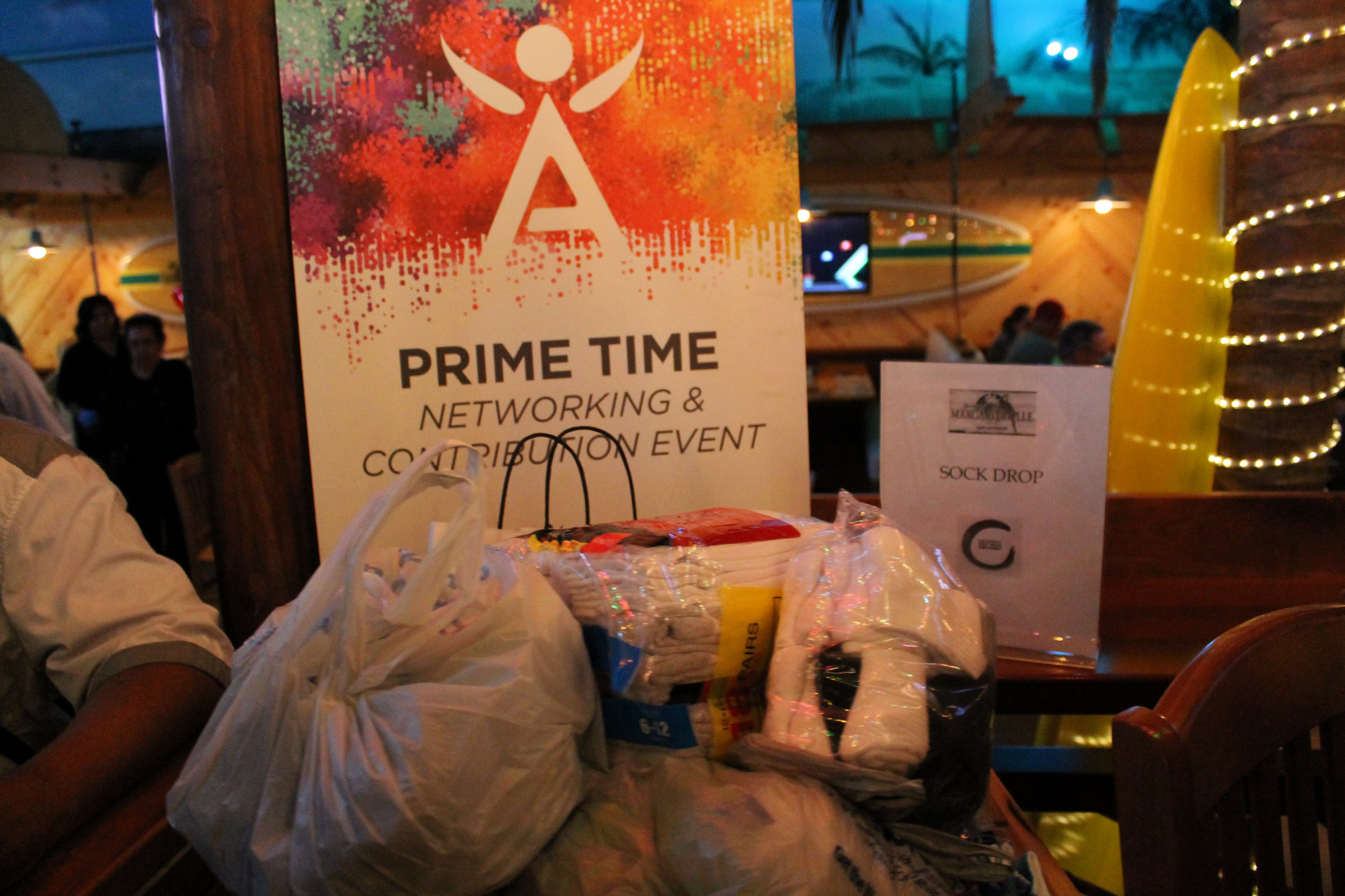 It's obvious from the photos that Prime Time members had a blast that night.
"After so much long-distance interaction, it was amazing for us to all be in one place. It felt more like a reunion," shares Laura Hyman, Prime Time member and IsaBody Challenge® Honorable Mention.
But the best part of the evening was what it accomplished.
"I wish I'd have thought to count how many pairs of socks we collected," says Lisa. "The participation was so far beyond what I expected. Even people who couldn't stay for dinner stopped by the restaurant to drop off pairs of socks. We also had people bringing them to our booth at NYKO. It was fantastic."
The evening was made doubly charitable thanks to Jimmy Buffett's Margaritaville, which arranged to donate 10 percent of the evening's proceeds from food purchases to Singing for Change.
Up Next: Providing Warmth for Toronto's Homeless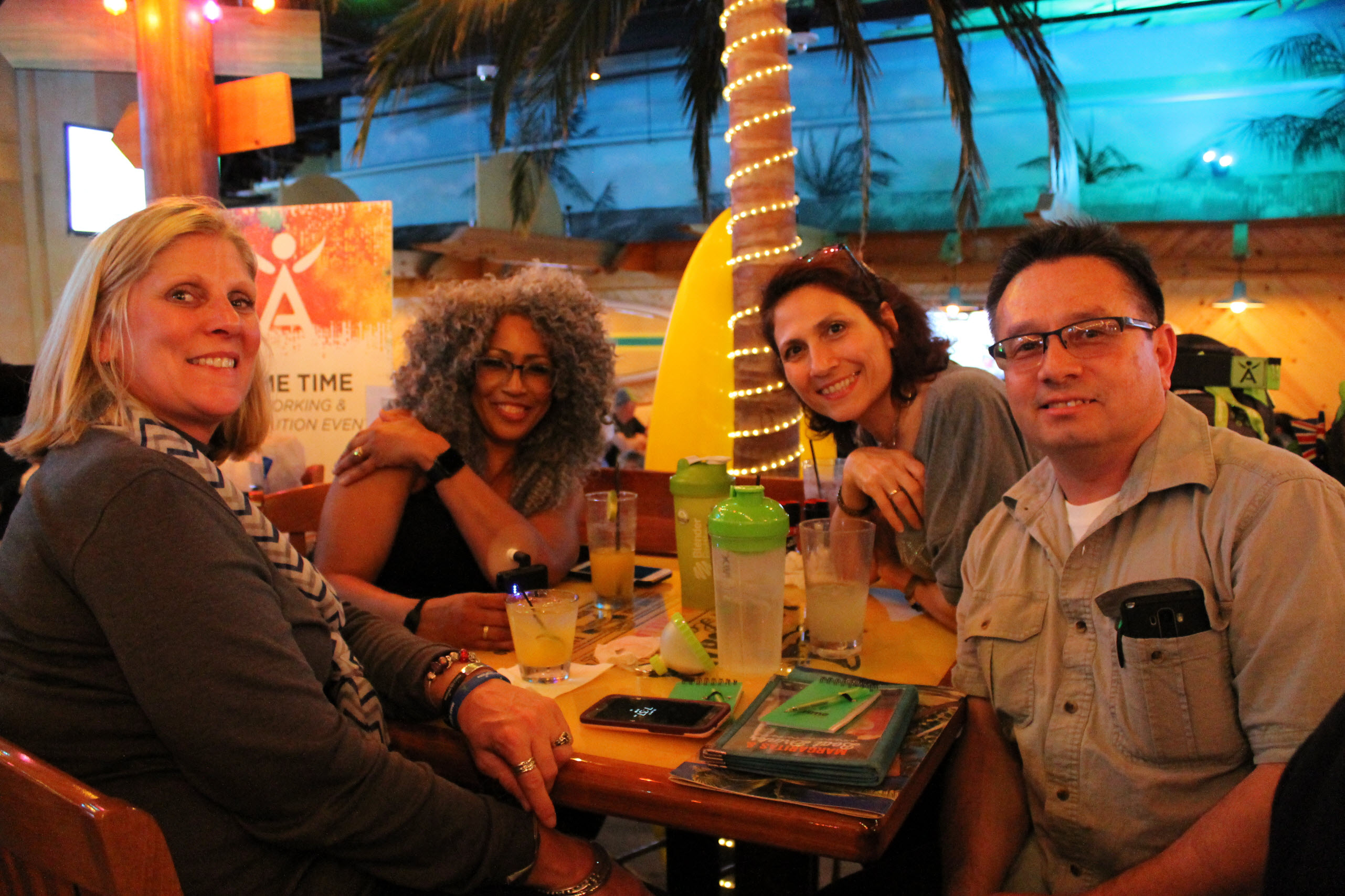 The success of the San Antonio sock drive resulted in Prime Time planning a similar drive for next month's Red and White Kick Off in Toronto, Ontario. For this event, Prime Time members will be gathering at Acqua Dolce Resto Venue for another networking event, and the socks collected will be donated to a local shelter for homeless teens.
"Being outside on a cold night in San Antonio or in Phoenix with no socks is bad enough," Lisa explains. "But being outside on a cold night with no socks in Canada? Now you're talking about frostbite. A pair of socks sounds like such a small thing, but it can actually mean a great deal to someone."
Prime Time has yet to solidify activities for the rest of the year. What is certain, though, is that these events are becoming part of the group's DNA. With grown families and retirement on the horizon or already here, many Prime Time members have the freedom to focus on the things they want to do, and what they want to do is contribute to their communities.
"Never be afraid to reach out to someone who is homeless," says Shawn. "Your simple act of reaching out, putting hands and feet to your compassion, and looking into the eyes of homelessness could change a life for the better. And the life changed may just be yours."
About Prime Time
Launched in 2016, Prime Time is a group created for Isagenix Members who are interested in healthy aging and living life to the fullest. Members have access to an exclusive Facebook group, where they can build connections and share ideas about healthy aging with other group members from across the globe. Members also have the option to subscribe to the group's semimonthly e-newsletter, participate in weekly online meetings and healthy living contests, and more.
Isagenix Members can join this group for free by opting in at NowIsPrimeTime.com today.