Isagenix is growing by leaps and bounds—and so are our sales tools! Check out these exciting, new, and updated sales tools just released at 2016 "One Team" Celebration!
New: 90-Day Game Plan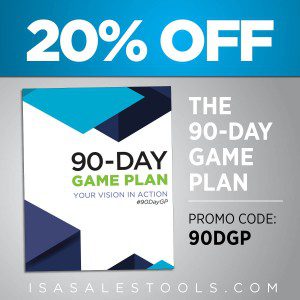 If you're ready to grow your business, the 90-Day Game Plan is the best way to get started. Join us in the 90-Day Game Plan beginning August 22, 2016 by downloading our updated 90-Day Game Plan workbook at IsagenixBusiness.com or purchasing a spiral-bound copy at IsaSalesTools.com. You can opt in for this training in your Back Office under the "Training Center" tab.
Purchase now and receive 20 percent off when you use the promo code 90DGP until September 30, 2016!
New: Transformed Lives Magazine
Isagenix has the Solutions to Transform Lives™! Check out this brand-new magazine that showcases incredible physical and financial transformations thanks to Isagenix products and solutions. This magazine is the perfect tool for sharing stories with people who can benefit from Isagenix. Purchase a pack at IsaSalesTools.com, or purchase two packs and receive the IsaTools To Go™ app for FREE for one year.
Updated: New Member Order Form
Available to purchase as tear-off pads at IsaSalesTools.com, or in a PDF at IsagenixBusiness.com, these forms make placing a new member's first order a snap!
New: 2016 Summer Product Catalog
Our latest product catalog includes our newest plant-based protein dairy-free product line; plus, it makes it easier than ever to share the features and benefits of our products and systems. View the product catalog online or purchase a pack at IsaSalesTools.com.
Updated: IsaBody Look Book: 10th Anniversary Edition
Share the best—and latest—IsaBody Challenge® success stories from the past 10 years of incredible transformations with dynamic "before" and "after" photos. Perfect for Launch Parties and one-on-one meetings, this book will be one of the most powerful recruiting tools in your toolbox! You can find this special edition of the Look Book in the IsaSales Tools To Go app too. Purchase a hard copy now at IsaSalesTools.com.
New: AMPED™ Brochure
Get your customers AMPED to take their performance to the next level. Build awareness about this entire line of performance products designed to produce optimal results. Purchase a 25-pack at IsaSalesTools.com.
New: Dairy-Free, Plant-Based Protein Product Line Brochure
Share all the exciting benefits of a high-quality, plant-based protein product line of delicious IsaLean® Shakes, IsaLean Bars, and all of the Isagenix dairy-free support products. See what happens when you "Drink More Plants!" Available for purchase at IsaSalesTools.com.
Updated: Team Isagenix Brochure
This 12-page brochure/booklet is ideal to share with any prospect interested in learning about how Isagenix Systems and products help athletes of all levels compete at their highest level. This freshly updated brochure is full of testimonials, product information, and pro atheletes' daily routines using their favorite Isagenix products. Purchase a 25-pack at IsaSalesTools.com.
Updated: Launch Party Kit
Host a professional Launch Party with all the tools you need to get your event up and running. This kit has been updated with the latest materials, Summer 2016 Product Catalog, and so much more! Available for purchase at IsaSalesTools.com.
New: Sample Cards and Sample Bags
Share a product sample with all of its information in a handy informational card. Now available for e+™, IsaLean Shakes, the AMPED line of performance products, IsaLean Bars, and IsaDelight® chocolates! Available for purchase at IsaSalesTools.com.