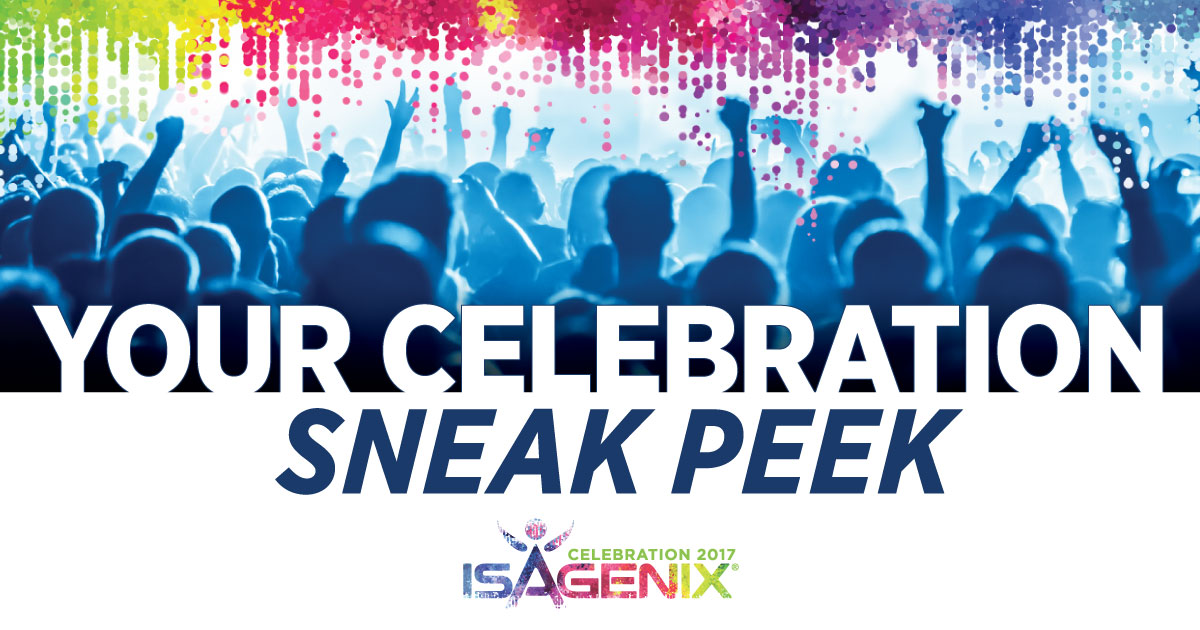 One mind-blowing event is headed to Las Vegas in a month, and we hope you are joining us for all the action!
The Isagenix team has been working tirelessly to plan an unforgettable Celebration, and you won't believe all the exciting training, entertainment, receptions, and products that we have in store for you. Let's take a sneak peek!
What You Can Expect at Celebration 2017!
Leading with confidence. Associates ranked Executive or above* have the wonderful opportunity to receive FREE in-depth leadership and business training with Isagenix Strategic Training Consultant David T.S. Wood and other top leaders Sunday, Aug. 6. During this Leadership Meeting, you'll master the five critical skills of impactful leaders, learn how to avoid the common pitfalls of leadership, and more!
Brushing up on your product knowledge. We are bringing you a wealth of product information and insight during Science Talks all day Sunday, Aug. 6. Learn the ins and outs of the top-tier products from members of the Scientific Advisory Board and Research and Science team.
Our excitement – we couldn't wait! We just can't wait to have the Isagenix family together again, so we are kicking off Celebration a day earlier than last year. Make sure you schedule a Saturday arrival because all the General Session fun will begin Sunday evening, and you do not want to miss the exciting product launch!
Speaking of product…Are you as pumped as we are to add new products to the already amazing product offering? During this event, you will not only watch as new, revolutionary products are revealed onstage, but you will be the first to discover and try the highly anticipated 15-year anniversary shake flavor!
Inspiring you into action. At Isagenix events, there is no holding back when it comes to training, and Celebration is no different! We have gathered together a group of top leaders who know what it takes to grow your business in network marketing. They are eager to get onstage and share their insight and strategies with you. Check out who's training!
Breaking through with five hours of Breakout Sessions. You asked, and we listened! The ever-popular Breakout Sessions have been expanded this year. Now you have a full day to explore the business topics of your choice and receive extensive training from Isagenix top leaders. Check out the breakout topics and trainers!
Green carpet ready. Giuliana and Bill Rancic will be joining us for the premier recognition night of the year as the hosts at the Gala Awards. Hit the green carpet dressed to impress, mingle with your Isagenix family, and celebrate our accomplishments!
Hey, batter, batter! This Celebration boasts yet another one-of-a-kind Crystal Executive Rally Reception. This baseball-themed affair is full of celebration, dancing, networking, laughing, and more.
STARTing the night here! The START Party is one of the most anticipated get-togethers of Celebration. Young Isagenix leaders will gather together under a massive LED chandelier, dance, and mingle all night long at the incredible Omnia Nightclub in Caesars Palace!
Changing your life with Tony Robbins! Are you as excited as we are for the nation's No. 1 life and business strategist Tony Robbins to join us at Celebration? He will share his expertise, insight, and business advice. Don't miss this one-in-a-lifetime opportunity to learn from one of the greats Wednesday, Aug. 9.
Live the suite life. Isagenix has secured award-winning room accommodations for Celebration attendees at The Venetian and The Palazzo. These all-suite resorts are the only ones on the strip that will guarantee you an amazing room that is just steps from all the event action. You still have time to book your room in the Isagenix room block. Head over to IsagenixCelebration.com before the deadline of July 13, 2017, to reserve yours now, and check out how you can receive a gift.
Want to experience all this and more with your fellow Isagenix Associates? Celebration 2017 will SELL OUT soon, so make sure you visit IsagenixCelebration.com to secure your ticket today!
Once you have your ticket, be sure to download the Isagenix Events app and log in to the Celebration 2017 event! This app has all the above information about the Celebration agenda and MORE! Need to know what to pack? Check the app! Want to know how you can shop from your seat? Look to the app! Can't figure out where to park? We have that information covered in the app!
Then on-site at the event, use the app to access the agenda, trainer bios, venue map, and more. PLUS, the app allows you to receive personalized push notifications so you can stay up to date on important announcements.
Can't make it to Las Vegas in person? No problem! Isagenix is thrilled to offer you access to stream the first night of General Session Sunday, Aug. 6, for FREE! Catch the global opening experience, an inspiring address from Owners Jim and Kathy Coover, the exciting product launch, exceptional 90-Day Action Plan training, and more at IsagenixLive.com, free of cost.
Want to watch the rest of the Celebration action LIVE? Make sure you purchase a ticket for only $99 to watch the full livestream. Allow top trainers to transform the way you approach business building by equipping you with skills and tools to set you up for greater success from the comfort of your own home. Then you can rewatch your favorite segments on demand for up to 90 days following the event. Head over to IsagenixLive.com now to purchase your ticket!
*Qualified Associate and their spouse or business partner on the account only. No guests allowed.