Congratulations!
"I've worked in network marketing for more than 15 years and have never seen a business building system work better than the 90-Day Game Plan. I want to sincerely congratulate all of our valued leaders who have completed their game plan and are achieving their goals. I look forward to seeing you all at the top!" – Travis Garza, Chief Sales and Marketing Officer
"You did it! You put in the time, energy, and commitment and you've done so much in the past 90 days. Come celebrate with all of us as One Team at Celebration in Las Vegas. I can't wait to see you there!" – Kathy Coover, Co-Founder and Executive Vice President
You've made it through 90 days of hard work and business building. Starting today, it's time to celebrate!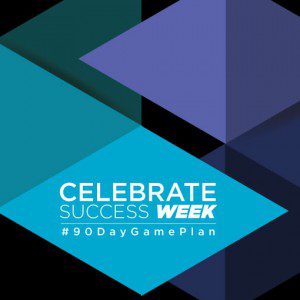 This 90-Day Game Plan has been a massive success. We've seen some major results from business builders big and small who invested their time, energy, and effort to build a foundation to transform their lives.
Did you reach your goal or maybe even exceed it? Even if you didn't accomplish everything you wanted, you should celebrate all of your achievements. Be proud that you took steps toward growing your business. Just because this 90-Day Game Plan has ended doesn't mean that your journey is over. Keep moving forward!
During This Past 90-Day Game Plan…
We had the largest week of product sales in Isagenix history!
Isagenix achieved No. 22 on the Direct Selling News Global 100 list for 2016
Over 500 Associates from all over the world attended the ribbon cutting ceremony for the grand opening of our new world headquarters
Latin America is on FIRE with nearly 200 percent growth in March 2016 over March 2015
Our Global Cleanse Day made over 800,000 impressions on Twitter and Instagram
Isagenix celebrated its 14th anniversary
Over 1,400 people attended Isagenix University (IsaU) Newark
And we welcomed new Isagenix Associates with three Launch Party Week promotions
Now Let's Celebrate!
How will you celebrate your success? How will you celebrate with your team members?
Back in January when you filled out your 90-Day Game Plan workbook, you wrote down some ways you can celebrate with your team. Go back, and look at Page 30 in your workbook to see what you had planned. Need more ideas for Celebrate Success Week? We have some suggestions for you!
Celebrate Team Success
Post personalized shoutouts about your team's achievements on social media
Organize a team outing
Send a friendly card or flowers
Celebrate Personal Success
Take a personal day to focus on yourself
Reward yourself with something special you've had your eye on
Share the Momentum
One of the best things about the 90-Day Game Plan is you can start one whenever you choose. If you know someone who would benefit from this amazing tool, share this video with them and encourage them to start their own 90-Day Game Plan.
To get started on your next 90-Day Game Plan, visit IsagenixBusiness.com and click on the Launch button, or click here.