4 Days, 15 Cities
From Phoenix to Melbourne to Calgary, the START Vision Tour is coming to a city near you in the largest whirlwind, global blitz in START history!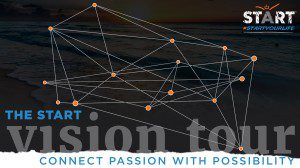 Erik Coover and the START Ambassadors are hitting the road to share the vision, answer questions, and set you and your guests up for massive success this February 8 through February 11, 2016 at locations all over the world.
"Me, 4 Friends, & a Vision"
Due to popular demand, tickets are $10 each with a maximum order of five tickets—one seat for you and one for each of your four non-Associate friends! Register you and four friends who you can't wait to help get started now.
Don't miss your chance to share Isagenix and the START community with others. Register now and get your friends in on the opportunity to rise above the status quo by connecting a life filled with passion to a future full of possibility.
For specific details and to purchase your tickets, go to IsagenixEvents.com before they sell out!
Monday – February 8
Phoenix, Arizona – hosted by Erik Coover and Cayla Craft
Woodbridge, New Jersey – hosted by Zach and Eden Slobin and Ciji Siddons
Portland, Oregon – hosted by Laura Stevens and Kelley Dickerhoof
Sydney, Australia – hosted by Anna and Morgan Richards
Tuesday – February 9
Minneapolis, Minnesota – hosted by Cayla Craft and Emily and Hayden Vavra
Miami, Florida – hosted by Ciji Siddons and Jason Lew
Denver, Colorado – hosted by Laura Krulish and Journey Henkart
Melbourne, Australia – hosted by Mara Pomana and Jackson Parr
Wednesday – February 10
San Diego, California – hosted by Zach and Eden Slobin and Laura Krulish
Chattanooga, Tennessee – hosted by Audrye Moss and Laura Stevens
Toronto, Ontario – hosted by Jason Lew and Danielle and Ross Thompson
Perth, Western Australia – hosted by Jackson Parr
Thursday – February 11
Calgary, Alberta – hosted by Journey Henkart, Audrye Moss, and Erik Coover
Gold Coast QLD, Australia – hosted by Mary Hardy and Jacob Leaf
Auckland, New Zealand – hosted by Ben Kelly