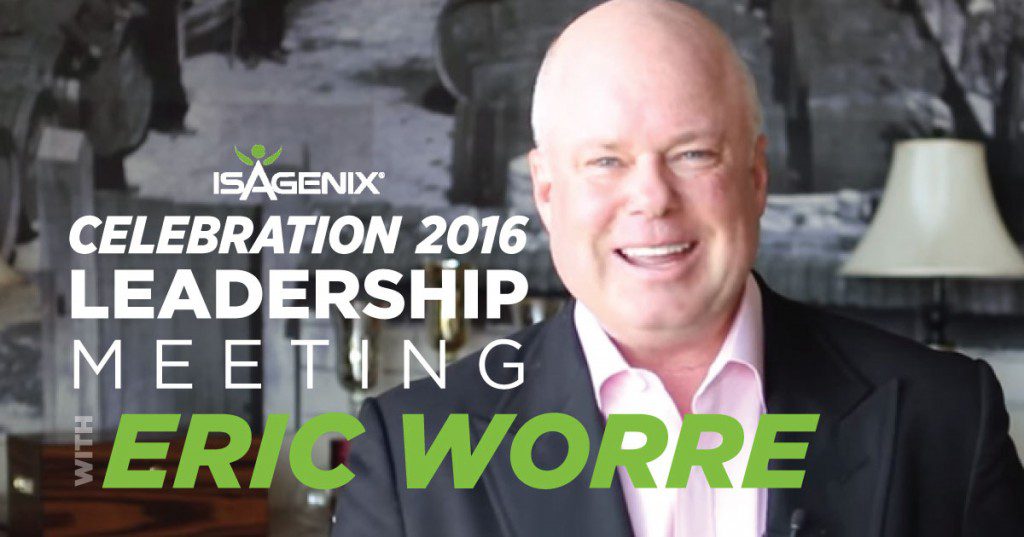 Isagenix Leadership Meetings are key to staying plugged in to industry trends and learning the steps to developing a successful, progressive business from experts. Join like-minded business professionals at our Leadership Meeting at Celebration 2016 in Las Vegas on Sunday, August 7, 2016 from 12 p.m. to 4 p.m.
Isagenix Associates ranked Manager and above who are attending our flagship event are invited to receive exclusive, in-depth leadership and network marketing training from industry professional and dynamic coach Eric Worre.
Hosted by Isagenix Senior Vice President and Chief Sales Officer Travis Garza, the Leadership Meeting offers a total of six hours of invaluable training that will boost your personal and professional development to a whole new level. As a well-traveled business professional, Eric has spent time with top leaders, gathering best practices, insights, and strategies from all over the world, and he is eager to share his knowledge with you!
Eric has planned a packed agenda. Associates in attendance can expect to learn:
How to develop and maintain a successful mindset
Best practices for teaching leadership and network marketing skills to your team members
Six strategies for unlocking your potential to help increase your income, influence, and rank advancements
For a sneak peek into what's in store for you at the Leadership Meeting, check out this special message from Eric himself.
You do not want to miss this exclusive training! You have until July 27, 2016 to qualify to attend. Check out IsagenixBusiness.com for strategies and tips on how to advance to Manager by July!
If you qualify for this exclusive training, all you need to do is pick up your badge and Leadership Meeting ribbon at Celebration registration for admission into the training. And if you haven't purchased your ticket to Celebration yet, visit IsagenixCelebration.com to find more information on how to register. See you in Vegas!