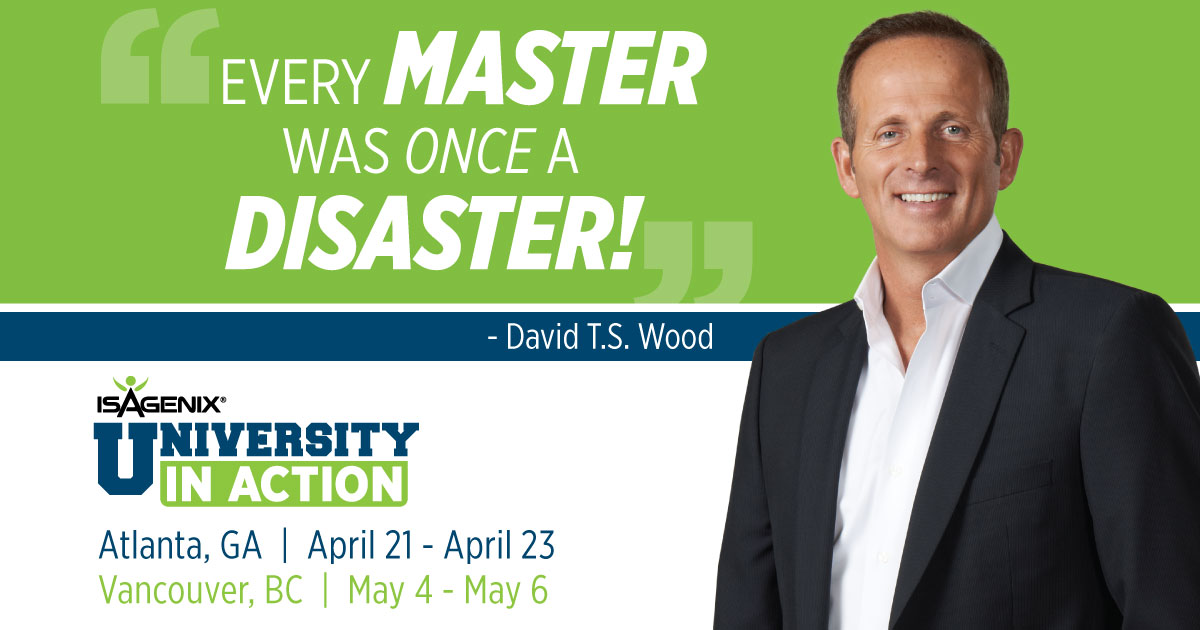 University in Action is coming to Atlanta, Georgia, and Vancouver, British Columbia, this spring, and you do not want to miss your chance to attend one of these events! Gear up for two and a half days full of mindset, skill set, and leadership training sessions that help attendees build foundational network marketing skills.
Led by Isagenix Strategic Training Consultant David T.S. Wood, UIA is designed to help you change the way you approach business building. Recognized as one of the world's leading personal development trainers, David guides attendees through the key areas of belief needed to become successful network marketers, breaking down doubts and concerns.
"UIA is an important part of your training with Isagenix because it will not only inspire and motivate you, but you will also walk away with the self-confidence and tactical skills that you can begin to implement immediately to help grow your business," UIA Atlanta hosts and 3-Star Golden Circle, 2-Star Crystal Executives* Rob and Kim Murgatroyd said.
What Makes UIA Different?
Rob and Kim believe University in Action is an invaluable event that will help you develop your business, just like it helped them with theirs!
"This event is different because it's like a learning lab," Rob and Kim said. "It has motivation, inspiration, and training from top leaders just like the other Core 4 Events™; however, it forces you to get outside of your comfort zone and not just learn and take notes but actually practice and get feedback on how you can improve your skills."
At each UIA, attendees have the opportunity to practice systems and use templates to help grow their businesses while gaining confidence in the industry, the company, and themselves. This event has been designed for beginners, part-timers, full-timers, and experts to work together in a fun, dynamic setting that helps contribute to many lasting friendships and incredible breakthroughs.
Get Your Tickets to a UIA Near You!
"Building this business is about building your beliefs," UIA Vancouver hosts and 7-Star Golden Circle, 2-Star Executives** Shawn and Kari-Lyn Owen said. "Belief that you can do it, belief that the opportunity is right for you, belief in the company, and belief in the products. It's so critical to our growth. And UIA is the event that can shift people from where they currently are to unshakable. I've seen that happen over a weekend."
This invaluable event is coming to Atlanta and Vancouver, and you do not want to miss out. Whether you are a new Isagenix Associate or a seasoned business builder, this event offers a wealth of valuable knowledge to help launch, grow, or elevate your Isagenix business!
Tickets are still available for both UIA Atlanta and UIA Vancouver, so head over to IsagenixEvents.com now to secure yours. Don't forget to invite your friends and team members to join you!
​*Rank as of 3/14/2017.
**Rank as of 4/10/2017.
The ability to earn income under the Isagenix Team Compensation Plan depends on many factors including an individual Associate's business, social and sales skills; personal ambition and activity; availability of time and financial resources; and access to a large network of family, friends and business contacts. Isagenix cannot and does not guarantee any particular level of earnings. Even Associates who dedicate a significant amount of time, effort and personal funds may not achieve a meaningful level of success. For average earnings, please refer to the Isagenix Earnings Disclosure Statement at IsagenixEarnings.com.