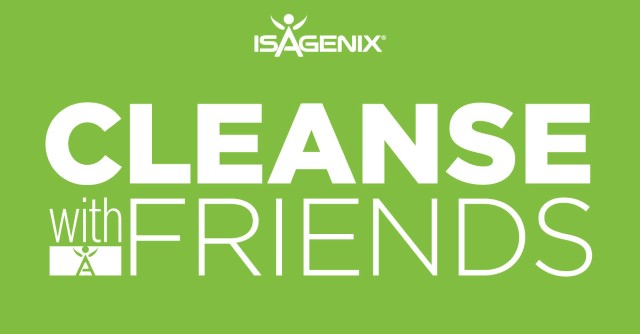 When we launched Cleanse for Life® as the Product in the Spotlight at Celebration 2017, we knew it came with great responsibility. At the core of that responsibility rests the Isagenix mission to continually impact world health. Here at our corporate headquarters, we are excited to launch a campaign that will help us fulfill that mission.
Introducing…
Cleanse With Friends!
We are enlisting the help of all of you, our friends, and Isagenix family to help us build and grow a Cleanse for Life community! Our goal is to help spread encouragement, advice, tips, and accountability on this journey of cleansing. Follow along, gather your teams, and join us each week on our corporate Instagram page as we share real, raw, and honest testimonies and content surrounding Cleanse for Life. These segments will be broadcast under our Instagram Stories button each week…Get ready to commit to cleansing with us, and invite your friends, too!
Feeling Motivated?
Just remember what Isagenix Owner and Chief Executive Office Jim Coover shared with nearly 15,000 Celebration 2017 attendees in Las Vegas:
"We realized we lived in a toxic world and that a part of our program needed to include a cleansing component…a full body nutritional cleanse that you could easily incorporate into your lifestyle – either as an everyday supplement or as a deep cleanse for one or two days. Today, the whole world is waking up to the benefits of intermittent fasting – while we've been doing it for 15 years. Cleanse for Life is the most widely used nutritional cleanse in the world."
Help us change the world's toxicity into truth about cleansing. Incorporating Cleanse for Life into your routine can support a healthier lifestyle that sets you up for success toward meeting all of your weight wellness goals.
Join Us Wednesdays!
There's no better way to begin a cleanse than with a solid foundation of accountability (aka friends)! Join us this week as we kick off Global Cleanse Day Aug. 23, 2017! On this day, thousands of Isagenix friends and family around the world will partake in a one-day cleanse. We hope you'll join in, too, and commit to cleansing with us every Wednesday for #CleanseDayWednesday. Stay tuned to our social media channels and Instagram page for details on this and other opportunities to "Cleanse With Friends!" Be sure to also stick with us right here at IsaFYI.com for Cleanse With Friends check-ins, where we will recap each week of this journey with you!