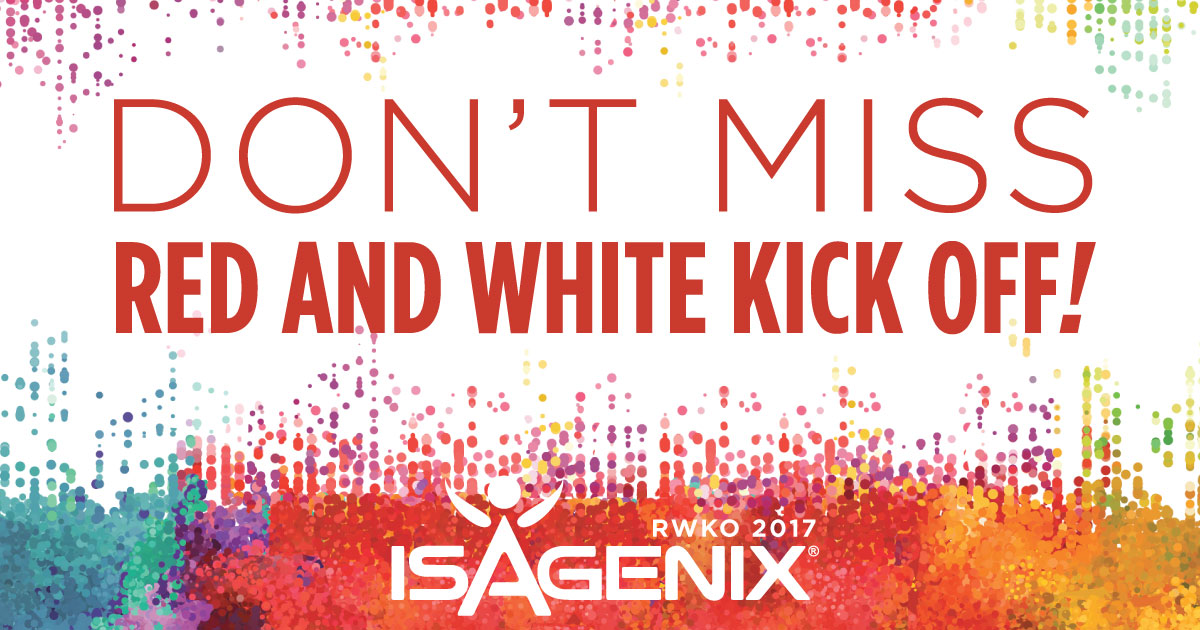 Are you ready to start 2017 off the right way with your fellow Isagenix Canadian Associates? Then join us for the inaugural 2017 Red and White Kick Off in Toronto from February 23, 2017, through February 25, 2017.
This event will be key to setting your business up for success in the coming year.
What to Expect at Red and White Kick Off
Red and White Kick Off will feature all the excitement, fun, and inspiration you've come to expect from Isagenix events.
Training Sessions and Segments
We are bringing in some great General Session trainers to help you craft your personal goals and business strategies. Kick your year off right with business-building guidance and insight from some Isagenix Canadian top leaders. Check out our IsaFYI article to see who's training!
You won't want to miss the chance to continue your training with invaluable 90-Day Action Plan and product training segments. Learn about new sales promotions and tools, discover strategies to grow your business globally, cheer on your Canadian top leaders as they are recognized onstage, and more!
Leadership Meeting
On top of General Session training, qualified attendees are invited to attend the Leadership Meeting. If you are ready to take your business to the next level and lead your team down the road to success, then you do not want to miss this opportunity to receive in-depth leadership and network marketing training from Isagenix Strategic Training Consultant David T.S. Wood, Isagenix corporate trainers, and top Canadian leaders. Stay tuned to IsagenixEvents.com for details!
World of Isagenix Store
An event like this wouldn't be complete without a World of Isagenix Store filled to the brim with great Sales Programs and Exhibitors booths. Pick up your favorite products at the store, learn more about our partnership with Make-A-Wish®, sign up for the IsaBody Challenge®, stock up on your Isagenix swag at the Isagenix Gear store, and more.
The Red and White Unite Party
After our action-packed event, come celebrate with your fellow Red and White Kick Off attendees at the Red and White Unite Party. More details will be coming soon, so keep an eye on IsaFYI!
If you are ready to learn about incredible promotions, develop new skills, and connect and celebrate with your Isagenix family, then secure your seat at Red and White Kick Off. Make sure you head over to IsagenixEvents.com to get your tickets for only $169!