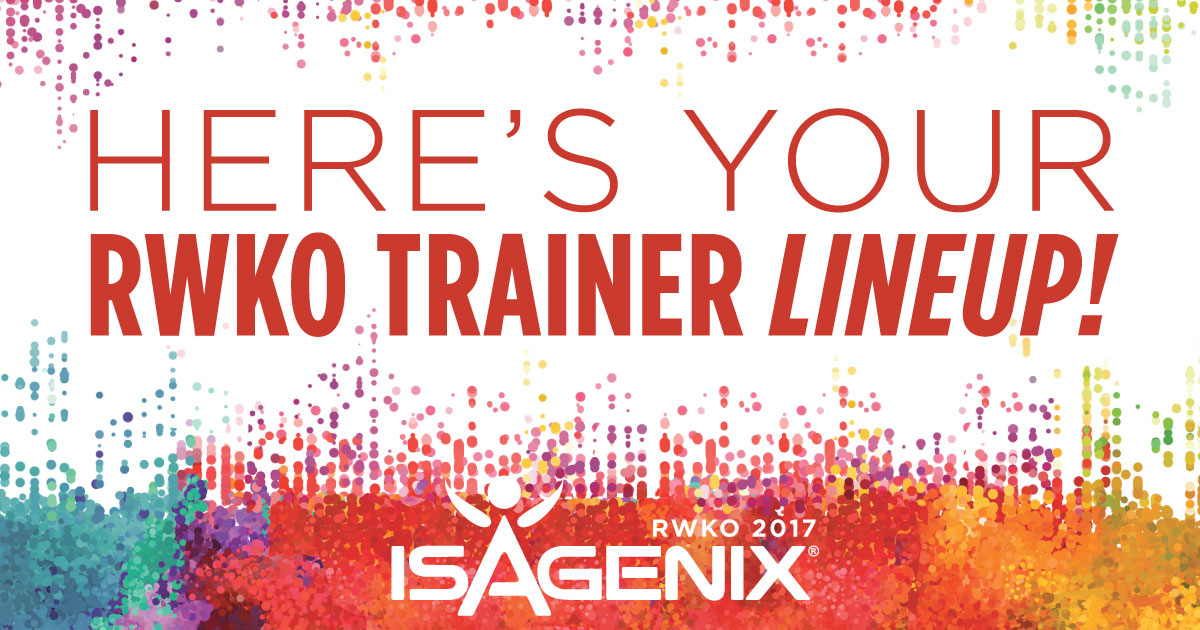 Are you ready to start 2017 off the right way with your fellow Isagenix Canadian Associates? Then join us for the inaugural 2017 Red and White Kick Off (RWKO) in Toronto from February 23, 2017, through February 25, 2017. This event will be key to setting your business up for success in the coming year.
To help you craft your personal goals and business strategies for 2017, we are bringing in some of our top trainers to give you business-building guidance and insight. Each of them know what it takes to share Isagenix with others and build a business from the ground up, and they are eager to share their knowledge with you!
Meet Your 2017 RWKO Trainers!
Susan Sly, Isagenix Millionaire,* 17-Star Platinum, 20-Star Crystal Executive
As a former television and radio personality, Susan had been suffering in silence with her own health. When a former client approached her with Isagenix, Susan was adamant that it was not for her and wanted to find things wrong with the products. Later, when Susan took another look, she recognized John W. Anderson and knew his reputation, so she made a decision to get on the system. After 13 years, Susan's mission is to help people pursue opportunities in their lives and have the power to say yes to the things they previously thought were impossible.
Warren Lance, Isagenix Millionaire,* 9-Star Platinum, 9-Star Crystal Executive
When former clothing company owner Warren first heard about Isagenix, he had no interest in the products or the business opportunity. But after having his own great product experience, Warren began telling people about Isagenix, and his business grew organically, now spanning across the globe. Warren and his wife, Arlene, are passionate about building their business as a family with their three boys and helping ordinary people transform their lives.
Janey Snelgrove, Isagenix Millionaire,* 8-Star Platinum, 6-Star Executive
Janey always hoped to make a living doing something that could combine her passion for health and business. When her husband opened a chiropractic wellness clinic and they realized the financial burden of the practice, Janey began searching for another source of income and found Isagenix. With the success she created through Isagenix, Janey now gets to transform lives and help others live a life full of vitality while exploring the outdoors, traveling, and contributing to children's missions around the world with her family.
Shannon Fisher, Isagenix Millionaire,* 8-Star Platinum, 3-Star Crystal Executive
Former massage therapist Shannon was searching for a way to prepare for her dream of starting a family with her husband. When a client introduced her to Isagenix, she jumped at the opportunity to try the products. After feeling and seeing the results, she and her husband, Chris, launched their business immediately. Since committing to Isagenix, Shannon's life has completely transformed. She has optimal health and the ability to make meaningful choices, plus three beautiful children. Shannon is able to be present in their lives every day.
Nicole Stewart, Isagenix Millionaire,* 7-Star Golden Circle, 9-Star Crystal Executive
As a former Olympic-level soccer player and kinesiology professional, Nicole had always been passionate about health and made it a top priority in her life. But after a car accident and the birth of her beautiful daughter, Ashley, Nicole found herself at a low point physically. When Nicole tried the Isagenix products and attended her first event, she knew she had happened upon something great! Now, she and her husband, Rob, help people through Isagenix and have the ability to be more present in their daughter's life and give back together.
Shawn Owen, Isagenix Millionaire,* 6-Star Golden Circle, 2-Star Executive
Former corporate executive Shawn traveled three weeks out of every month and worked 60-hour weeks. His stress levels were high, he was struggling to maintain his health, and he felt distant from his family. In 2008, thanks to his friend, Kyle, Shawn gave the Isagenix products a chance, and he felt like a different person. Now, this Isagenix Millionaire* works alongside his beautiful wife, Kari-Lyn, travels on his own schedule, and never misses one of his children's activities.
Lori Clarke, 4-Star Golden Circle, 1-Star Crystal Executive
Before Isagenix, Lori was a high school teacher and a full-time skate mom. Between creating new lesson plans and managing skate responsibilities, she was chronically sleep deprived and ran on coffee and sugar to help keep her energy up. When Lori finally decided to commit to the Isagenix products, it completely transformed her life. Through the business opportunity, events, culture, and products, Lori retired from teaching, lives in an abundance of energy and health, and has the choice to be more present with her family.
Pamela Barnum, Isagenix Millionaire,* 5-Star Golden Circle, 9-Star Crystal Executive
Former prosecuting attorney Pamela and her husband, Kevin, faced demanding careers while trying to raise their son. When they were first introduced to Isagenix, Pamela and Kevin were not interested in network marketing as a business. However, after using the products, they started seeing positive changes in their energy, performance, and physical appearance. Now, Pamela and Kevin spend their time with their son, Kaleb. They are passionate about teaching others how to reach their goals through consistency, determination, and drive.
Alvie Shepherd, 2016 IsaBody Challenge Grand Prize Winner
Former professional baseball player Alvie was forced into early retirement after a career-ending injury. Devastated, he turned to food and alcohol as a coping mechanism, and his health suffered. After discovering Isagenix and the IsaBody Challenge®, Alvie began focusing on his physical and financial goals. In August 2016, he took the stage at Celebration and was named the 10th IsaBody Challenge Grand Prize Winner! Now, Alvie continues to inspire and coach others to transform their bodies and lives with his positive outlook.
Dr. Paul J. Arciero, FACSM, FTOS, Nutrition/Exercise Scientist and Expert
Dr. Paul is a leading expert in nutrition and fitness. He is an independent, third-party scientific researcher who, along with his research team, has conducted several human trial intervention studies using the Isagenix Weight Loss and Performance Solutions. Dr. Paul's studies have demonstrated that both Isagenix solutions can improve metabolic, cardiovascular, body composition health, and physical performance. Dr. Paul often attends Isagenix events to train on the benefits of nutrition and fitness for optimal health and performance.
Get Your Tickets to Red and White Kick Off!
If you are ready to learn about incredible promotions, develop new skills, and connect and celebrate with your Isagenix family, then secure your seat at the Red and White Kick Off. Head over to IsagenixEvents.com to get your tickets for $169!
Ranks current as of 11/1/16.
*An Isagenix Millionaire is an Isagenix Associate to whom Isagenix has paid a gross total of $1 million or more since joining Isagenix. Earnings reflect gross amounts that do not include any business expenses. For average earnings of Independent Associates, please refer to the Isagenix Earnings Disclosure Statement at IsagenixEarnings.com.