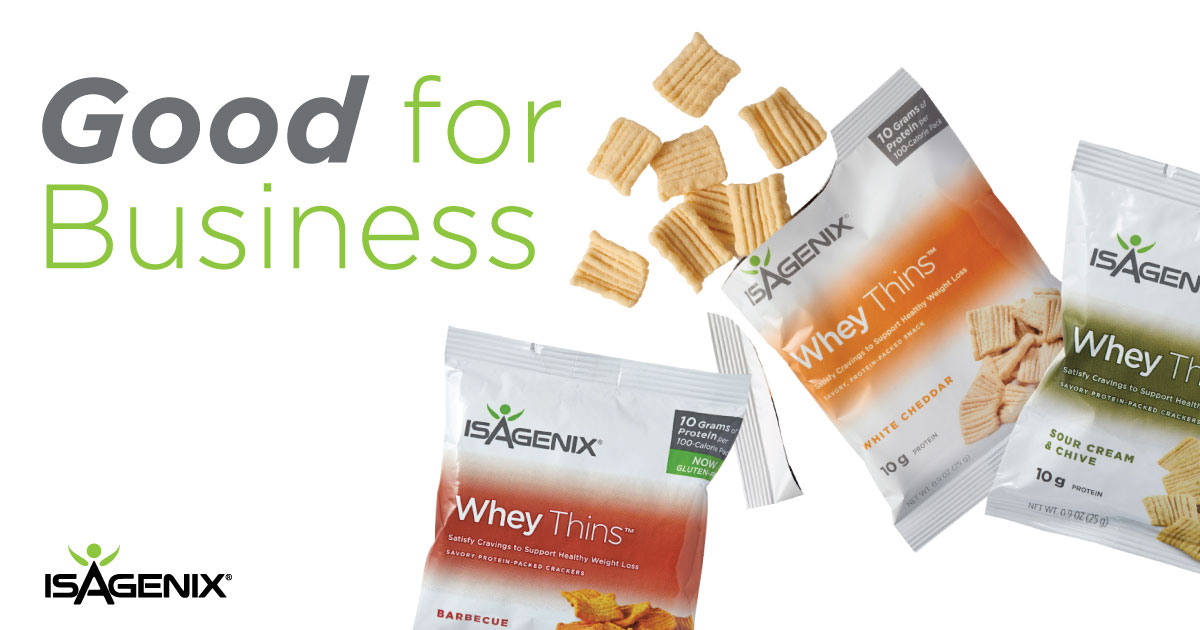 Snacking is an integral part of everyone's daily routine – at work, at home, on vacation, and at school. It's important to fuel up with the right food that will sufficiently supply your body with proper nutrition. At Isagenix, we want to provide our Customers and Associates with an incredible array of delicious snacks that offer top-notch nutrition and second-to-none taste, which is why we offer Whey Thins™.
It comes as no surprise that Whey Thins fit the bill for a well-balanced snack perfectly! These savory, perfectly portioned 100-calorie snacks deliver a powerful protein punch! So, besides their great taste and overwhelming popularity, Whey Thins make the perfect addition to your business and your health-focused journey! Protein is the foundation of maintaining lean muscle and supporting targeted weight loss. For these reasons, we've highlighted why Whey Thins are the ideal business partner:
1: Snacks Worth Sharing
Whey Thins are available in three delicious flavors, which makes sharing them easier than ever. Sour Cream & Chive, Barbecue, and our newest flavor, White Cheddar, all offer a tasty alternative to traditional snacking, which may help you avoid overeating and aid in portion control. Enjoy Whey Thins with friends and family, giving those around you a more balanced bite of nutrition and a simple isa-breaker tool to help you share our products with comfort and convenience.
2: Snack Smarter
Each individual pack of Whey Thins delivers 10 grams of high-quality protein per serving. They're also gluten-free, which makes them not only a smart snack choice but a convenient one, too! When hunger sets in, you can easily reach for your favorite flavor to keep you fueled to tackle the day. Whey Thins are approved for Cleanse Days – making them a mighty, pint-sized addition to any existing Isagenix System! With so many snack options available, it's important to snack smarter so you can feel good about what you are putting into your body. Think of it as an investment for your health; put your health first, and your body will begin to reap the benefits!
3: Satisfyingly Savory
Each of the flavors in the Whey Thins line touch on savory hints that are sure to please the palate. Every flavor helps support you as you work toward your ultimate health goals, one tasty bite at a time. Skip those tricks at the grocery store register – and the lines, too – by simply "clicking" and adding Whey Thins to your cart instead! You can boost your business the right "whey" with this flavorful companion.
If you haven't already added Whey Thins to your next wholesale or Autoship order, get to your Back Office today! Order now, and start snacking better – not because it's a big deal, but because it's big business!