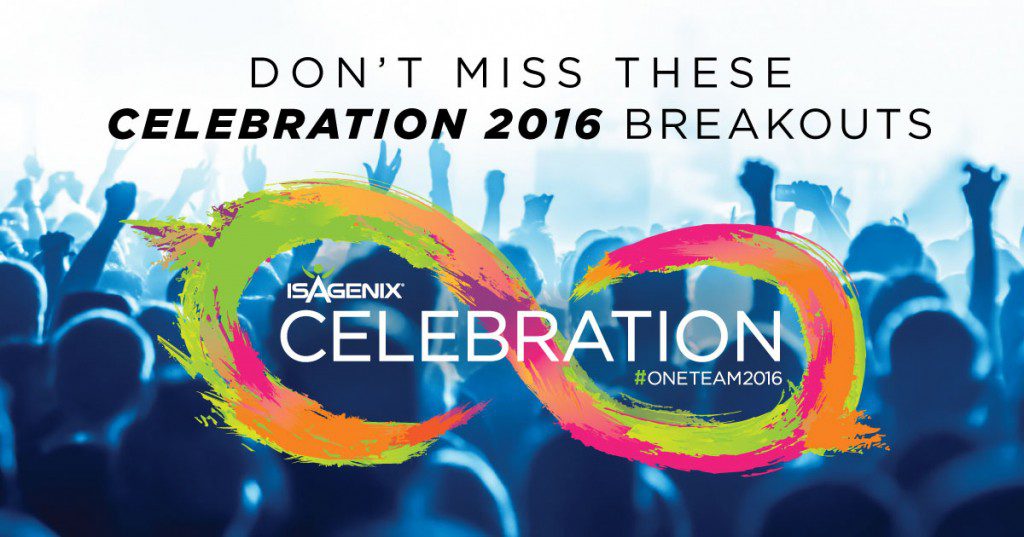 2016 "One Team" Celebration is nearly one month away. We hope you are ready for several days of excitement, inspiration, and learning in Las Vegas!
For in-depth training on business building topics, take advantage of our breakout sessions on Tuesday, August 9, and learn from top leaders and corporate staff. Breakout sessions are a crucial component of the Celebration experience, and we want to set you up for success. Here are a few key things to note for this year's breakout sessions:
Each breakout session lasts 45 minutes.
You will have the opportunity to attend up to three breakout sessions.
Come prepared to learn and take notes by bringing a pen and paper.
There is limited space for each session, so if a room reaches capacity, you will need to find another breakout to attend.
Time in between sessions is limited, so we suggest bringing water and your favorite products to the sessions.
Trainers for the sessions below are subject to change.
Register for Your Breakout Sessions
Because space will be limited in each breakout session, Celebration attendees must register for the sessions they would like to attend. We highly suggest you register as early as possible to reserve your spot before they fill up!*
To register, download the Isagenix Events app to your iOS or Android device from the App Store or Google Play. Then follow these instructions:
Download the Celebration 2016 event.
In the Celebration event, log in to the app by following the instructions in the "How to Log In" section.
Once logged in, click the "Agenda" button.
View breakouts on Tuesday, August 9, and press the '+' button next to each segment you want to attend.
Add up to three breakout sessions. Please note, you will only be able to register for one session per time slot.
To view your agenda after selecting your breakouts, simply click the "My Schedule" button at the bottom of the "Agenda" page.
2016 Celebration Breakout Session Agenda
Key Activities for Business Success
Time:
1 p.m. to 1:45 p.m.
Trainer:
Jay Bennett
Isagenix Millionaire, 19-Star Platinum, 18-Star Executive**
Need to give your Isagenix business a boost? Top leader Jay Bennett is excited to share with you key activities that can help your business soar, and in return, generate more income to finish out the year. Learn how to make your list, connect with prospective members, set up the appointment, present Isagenix, follow up, get your new Associates started, and encourage team members to attend events.
Compliance Tips Game Show
Time:
1 p.m. to 1:45 p.m.
Trainers:
Justin Powell
Isagenix Chief Legal Officer and General Counsel
Richard Stagg
Isagenix Vice President of Legal
Tyrie Barrott
Isagenix Associate General Counsel
Your Isagenix business is a valuable asset. Protect your business, your team, and our company by doing business the right way. The members of the Isagenix Legal team are ready to help you safeguard the future of your business by sharing the basics of compliance. Learn how to build your business by sharing your story in an effective, responsible, and compliant way.
Isagenix Products: Your Daily Regime
Times:
1 p.m. to 1:45 p.m.
2:15 p.m. to 3 p.m.
Trainers:
Sara Richter
Isagenix Product Education Supervisor
Dr. Paul Biondich
3-Star Golden Circle, 3-Star Executive**  
Many Isagenix product users stay true to their IsaLean® Shakes, Ionix® Supreme, IsaLean® Bars, and e+™ shots, but we have many other great products that are often overlooked. Isagenix Product Education Supervisor Sara Richter and top leader Dr. Paul Biondich are eager to tell you about some products that should be consumed daily to maximize your Isagenix product experience. Learn about the impact these products have on your health, why you should use them, and why you should encourage your team to use them.
START:  Building Freedom and Legacy
Time:
1 p.m. to 1:45 p.m.
Trainers:
Audrye Moss
5-Star Golden Circle, 1-Star Executive**
Lindsay Hoffbuhr
7-Star Golden Circle, 6-Star Crystal Executive**
Jacob Leaf
Isagenix Millionaire, 6-Star Golden Circle, 1-Star Crystal Executive**
Ignite business growth by tapping into one of the fastest-growing segments in Isagenix: START. These young entrepreneurs have mastered the ability to connect people to a culture that unites teamwork with the power of personal meaning and vision. Join successful START Associates as they discuss how to create, shape, and share a strong sense of community that inspires and motivates young people to come together to help themselves and give back to others. Learn techniques and tools you can use to build a legacy of relationships, collaboration, and commitment that lead to long-lasting value and success.
Overcoming Objections
Time:
1 p.m. to 1:45 p.m.
Trainers:
Herb & Patty Cepeda
Isagenix Millionaires, 19-Star Platinum, 21-Star Crystal Executives**
Jennifer Corliss Trinkner
Isagenix Millionaire, 10-Star Platinum, 17-Star Executive**
In the network marketing business, you will often hear an immediate "no" a lot more than you hear an immediate "yes!" when talking to someone about the opportunity. And your Isagenix business will be no different. Isagenix top leaders Herb Cepeda, Patty Cepeda, and Jennifer Corliss Trinkner are ready to help you learn how to address concerns from new prospects and turn that answer around. Learn how to overcome objections to the products, price, industry, compensation plan, and more from these expert network marketers!
Building Your Business With Social Media
Time:
2:15 p.m. to 3 p.m.
Trainers:
Chris & Lori Harder
Isagenix Millionaires, 12-Star Platinum, 10-Star Executives**
Social media can boost your personal brand and help you expand your business network in new ways. Using social media platforms like Facebook, Snapchat, and Instagram as business resources can be effective tools to share rather than sell Isagenix. Social media is a platform that requires you to find a voice and persona that is authentic, valuable, and relatable to others. Isagenix top leaders Chris and Lori Harder are prepared to show you how to interact on social media to identify who you are, what you have to offer, and why others will be inspired to connect with you.
Teaming Up With Your Business Partner  
Time:
2:15 p.m. to 3 p.m.
Trainers:
Siv Bennett
Isagenix Millionaire, 19-Star Platinum, 18-Star Executive**
Morgan Richards
5-Star Golden Circle, 3-Star Crystal Executive**
Justin Courtney
Isagenix Millionaire, 13-Star Platinum, 9-Star Crystal Executive**
Running an Isagenix business is multifaceted. It is stressful yet inspiring. Challenging yet exciting. Difficult yet a blessing. Being successful in the network marketing industry takes team effort and support from your mentors, team members, and especially your partner. This panel of business builders share their insight and knowledge on working as a team with their wives to build successful Isagenix businesses.
Healthy Mind & Body: Shifting Your Mindset
Time:
2:15 p.m. to 3 p.m.
Trainers:
Rod Hairston
Growth-U CEO and Chairman
Tanya Kirkpatrick
Isagenix Millionaire, 10-Star Platinum, 9-Star Crystal Executive**
Isagenix teamed up with Rod Hairston and Growth-U to create a one-of-a-kind, 60-day accountability system called Healthy Mind and Body. This custom Isagenix program was built to empower product users and Associates to reach their health, fitness, energy, and lifestyle goals. The impact on business is undeniable, boosting both retention and order basket for program participants. Join Rod Hairston and top leader Tanya Kirkpatrick as they tell you why you and your team members should join Healthy Mind and Body and how to get started.
Fortune in the Follow-Up
Time:
2:15 p.m. to 3 p.m.
Trainer:
Susan Sly
Isagenix Millionaire, 16-Star Platinum, 19-Star Crystal Executive**
You connect with a promising prospect who seems interested in the Isagenix products and opportunity. You provide them with resources and materials to research more and tell them to contact you with any questions, but you haven't heard from them since. What do you do? Any network marketing professional knows that follow-up is key for successful prospecting. Top leader Susan Sly is ready to take the stage to give you her top tips on following up.
Understanding the Network Marketing Profession
Time:
3:30 p.m. to 4:15 p.m.
Trainers:
Michael Clouse
Isagenix Millionaire, 18-Star Platinum, 13-Star Crystal Executive**
Lynn Hagedorn
Isagenix Millionaire, 18-Star Platinum, 13-Star Crystal Executive**
Network marketing can be a vast, challenging industry to enter. The landscape is constantly changing with new technology and communication outlets. To navigate this industry, sometimes it helps to hear from those who have been down the road before you. That's why top leaders Michael Clouse and Lynn Hagedorn are joining us at Celebration to share their knowledge and experience. Learn how to overcome the stigma of network marketing, talk about what you do, and share Isagenix with prospective, new members.
How to Take Your Isagenix Business Global
Time:
3:30 p.m. to 4:15 p.m.
Trainers:
Sharron Walsh
Isagenix Vice President of International
Steve Foxwell
Isagenix Regional Sales Manager
Did you know you can expand your business internationally right from your own backyard? Global growth is all about identifying who you know and who they know—and then making strategic connections! Isagenix Vice President of International Sharron Walsh and Isagenix Regional Sales Manager Steve Foxwell will show you how to tap into a world of opportunity from your own neighborhood.
IsaSales Tools To Go
Time:
3:30 p.m. to 4:15 p.m.
Trainer:
JJ Oswald
Senior Vice President of Sales, Sounds Concepts
Join our Isagenix business tools expert JJ Oswald at Celebration to learn about some amazing tools to help build your business. JJ is eager to tell you how you can use the updated IsaTools To Go™ app, the 2016 IsaBody Challenge® Look Book, the Team Isagenix brochure, new product education materials, and more!
Connecting: What to Say, How to Say It, and When to Say It
Time:
3:30 p.m. to 4:15 p.m.
Trainers:
Cindy Hedges
Isagenix Millionaire, 9-Star Platinum, 6-Star Crystal Executive**
Laura Stevens
Isagenix Millionaire, 9-Star Platinum, 15-Star Crystal Executive**
Janey Snelgrove
Isagenix Millionaire, 8-Star Platinum, 4-Star Executive**
Have you ever been in a situation when you knew you should be talking to someone about Isagenix, but you didn't know what to say? How do you introduce someone to Isagenix at the right time and in the right way? Top leaders Laura Stevens, Cindy Hedges, and Janey Snelgrove join us to help you learn how to talk about Isagenix products and opportunities and connect in a meaningful way with family, friends, neighbors, and others. Learn how to effectively start conversations, ask and answer questions, access resources, and more. Connecting is the most requested training topic from our Associates, and it is the core building block for a successful Isagenix business.
Sharing the Isagenix Performance Solution
Time:
3:30 p.m. to 4:15 p.m.
Trainers:
Cathy Savage
Isagenix Millionaire, 10-Star Platinum, 12-Star Crystal Executive**
Darryl Daniels
3-Star Golden Circle, 2-Star Crystal Executive**
Amyra Mondon
1-Star Golden Circle, Crystal Executive**
Alex Mohr, M.Sc.
Isagenix Research Nutritionist
Whether you have performance goals or you want to build your business with people who do, this is the session for you! A panel of professionals in the health and fitness world—including some of our Team Isagenix Ambassadors and Isagenix corporate team members—will give you the 411 on our elite line of performance products. Gain invaluable training on how to use AMPED™ Power, NOx, Fuel, Hydrate, and Recover for different lifestyles and how to share our Performance Solution with others.
Haven't registered for Celebration yet? Make sure you secure your tickets today by visiting IsagenixCelebration.com. This event will SELL OUT soon!
*Please note that signing up for a breakout session does not guarantee you a spot in the room. If the room reaches capacity before you arrive, you will have to attend another session
**Ranks current as of 7/1/16. Isagenix Millionaires are defined as Isagenix Associates who have cumulatively earned $1 million or more with Isagenix. Earning levels for these Isagenix Independent Associates substantially exceed the average results achieved by all Associates during the same time periods and should not be construed as typical or average. Income level achievements depend on many factors, including the individual Associate's business and networking skills, personal ambition, time commitment, work habits and other abilities. For average earnings, please see the Isagenix Independent Associate Earnings Statement found at IsagenixEarnings.com.