Your Pak, Your Way, a new online ordering process, is now available across the world!
Take a look at this helpful tutorial.
This all-new system is simple, intuitive and flexible, providing you with standardized pricing and BV and the chance to customize your order with your preferred flavor or packaging option of your choice.
Purchase a System or Pak and Save Two Ways
1.The discount is calculated based on the BV level for your specific system or pak: 150-299 BV will receive a 5% discount, and 300+ BV will receive a 10% discount. The discount is applied to the cost of the items if purchased individually.
2. Become an Autoship Rewards Member and Save an additional 5% on all systems and paks versus wholesale purchases.
As an example, let's use a base 30-Day System™, which falls into the 150-299 BV range. If you were to purchase the products individually, the a la carte cost would be $299. If we apply the 10% Autoship discount, the Rewards price is $269 with 184BV. Keep in mind, if you customize the 30-Day System to include packets, IsaLean® Pro, or our Natural Berry Harvest IsaLean Shake, the cost will increase; however, the 10% discount is standard and will apply no matter what you choose.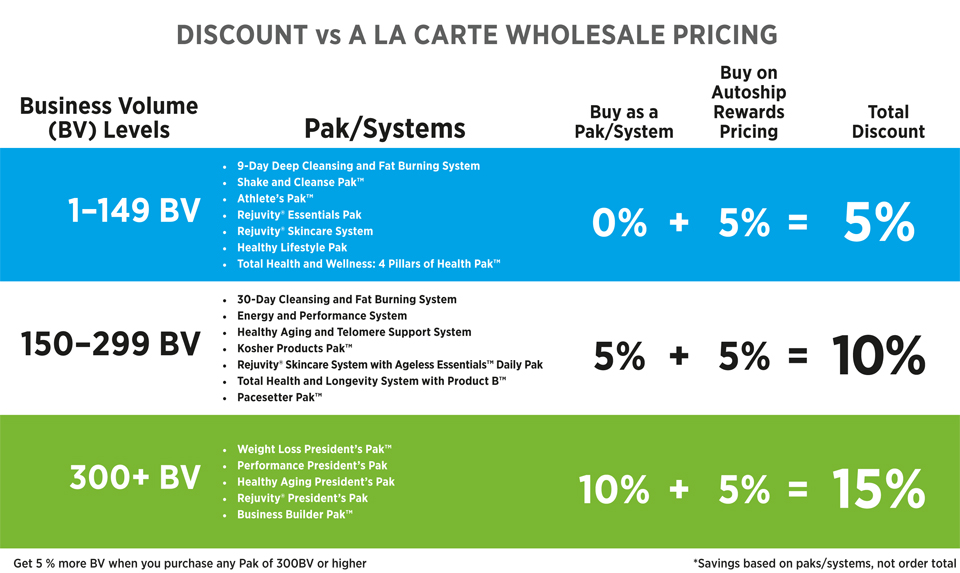 When you buy ANY pak or system on Autoship, you will always receive a 5% discount, this chart provides an explanation of the simple discount structure you can expect that's easy to follow and easy to explain.
A few other exciting things to note:
Simple discount structure that shows the benefits of Autoship Rewards Pricing
When you purchase Paks and Systems instead of individual items, the higher the BV, the better the discount
It's global and seamless—build a global business anywhere and everywhere with ease
Want the best price? Order one of the "getting started" paks and systems like the 30-Day Cleansing and Fat Burning System, Energy and Performance System, Healthy Aging and Telomere Support System and Rejuvity Skincare System on Autoship, you'll receive Autoship Rewards pricing AND receive an additional 5% discount, for a total of 10%.
Now here's the kicker… If you purchase on Autoship above 300 BV which is all of our President's Paks and Business Builder Pak, you get a 10% Pak/System discount and a 5% Autoship Rewards discount for a total discount of 15%. And we have more good news, the BV for these paks have been increased with no change to the price. President's Paks BV have gone from 300 to 320 and the Business Builder Pak BV has gone from 600 to 640.
Visit your Back Office to view updated pricing and take a peek at your Autoship to view these exciting updates!
Read more about Your Pak, Your Way.
* Savings based on the purchase of individual paks or systems, not combined order total.