We hope y'all are ready to party with us at Global Celebration in August! We're headed to Nashville, Tennessee, known for its vibrant music scene, festive honky-tonks, and Southern comfort food.
While we're fully confident you're going to have the time of your life during the event, we want to make sure you have just as much summer fun when you hit the streets of Nashville in between, before, or after event segments. Parking in the city center isn't always easy, so to save your sanity and the planet and get your daily steps in, here's your essential walking guide to Music City!
What To Do Near Global Celebration
Music City Center is hosting us once again for Global Celebration 2019! This iconic building is fairly new to Nashville and is located downtown. It's massive! Our select Nashville hotels are conveniently sprinkled around this venue.
Here are a few Nashville staples close to our event that we think any Nashville newbie should visit!
FOR A SHORT WALK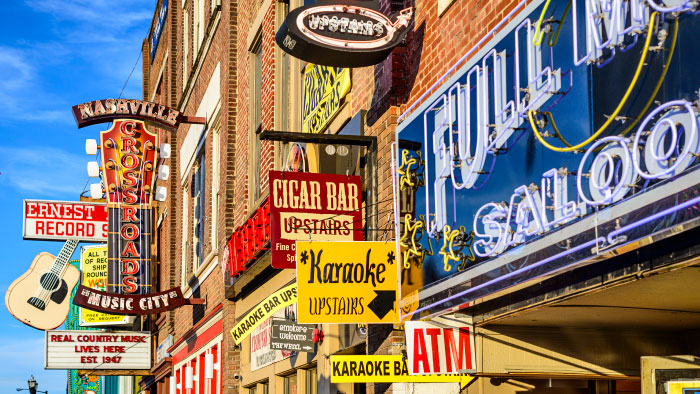 Country Music Hall of Fame and Museum | 6-MINUTE WALK FROM MUSIC CITY CENTER
If you have a couple of hours, you need to head over to the Country Music Hall of Fame. It's a short walk from Music City Center and close to most of our select event hotels. This museum is a country music lover's paradise, but it's also fun for everyone to learn about our nation's rich musical history and outstanding artists from past to present.
The self-guided audio tour usually takes about 2.5 hours and only adds a few dollars to your general admission fee, which is $25.95 for one adult.
You can also opt for the museum's Studio B Experience, a historic studio tour that takes you to Elvis' favorite studio with a knowledgeable guide who will tell you all about how this studio became the heart of Nashville's Music Row.
Hatch Show Print | 6-MINUTE WALK FROM MUSIC CITY CENTER
For just $18, you can stroll through Hatch Show Print, the iconic letterpress poster shop that has been creating the colorful posters that adorn Nashville's streets for generations. You can book a tour to see how these imaginative posters are made. Plus, you get to try your own hand at making a miniposter to take home with you!
Kitchen Notes | 5-MINUTE WALK FROM MUSIC CITY CENTER
A short walk away from Music City Center, and an even shorter walk from the Omni Nashville Hotel (it's inside the hotel!), Kitchen Notes has some of the most scrumptious Southern food in town. Their farm-to-fork philosophy ensures fresh ingredients, simple recipes, and true Southern charm. Try their homemade chicken pot pie with endless crust!
FOR A MEDIUM WALK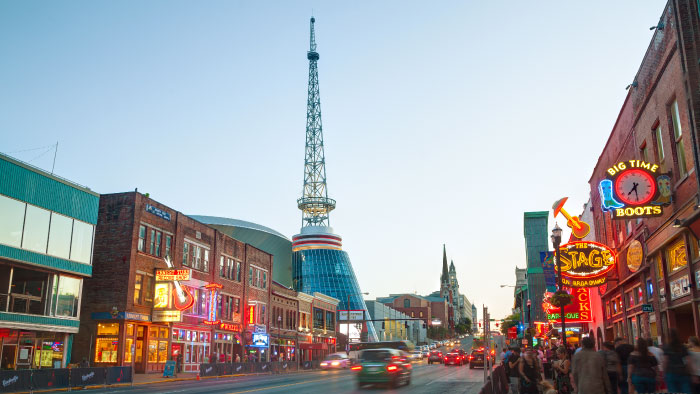 Frist Art Museum | 9-MINUTE WALK FROM MUSIC CITY CENTER
Located in Nashville's former historic post office building, the Frist Art Museum is a great place to bring kids (they enter free!). The museum boasts tons of activities that kids can get involved with, like screen printing, painting, and woodworking. For adults, the exhibits are often interactive and thought provoking. This is a very small museum, so you only need between one and three hours here.
Ryman Auditorium | 12-MINUTE WALK FROM MUSIC CITY CENTER
This historic music venue has witnessed some of the most influential moments in music history. It's where bluegrass was born and where Johnny Cash met June Carter! Now known as one of the best music halls in the world, every year musicians from all over come to perform at the Ryman. You can do a guided backstage tour or a self-guided tour. You can also check out which artists are playing at the Ryman while you're in town!
The Johnny Cash Museum | 12-MINUTE WALK FROM MUSIC CITY CENTER
This small but mighty museum has a huge soft spot for the man in black. The quaint brick-cladded museum pays tribute to the legendary Johnny Cash from his humble birth to his extraordinary stardom, covering every detail. Find out who Johnny was, and follow his life journey through his successes, failures, heartbreaks, and happiest moments. It's well worth the $19.95 entry fee!
Bongo Java Café | 12-MINUTE WALK FROM MUSIC CITY CENTER
Make sure to grab a snack and an amazing cup of award-winning coffee at the Johnny Cash Museum's café, the Bongo Java.
FOR A LONG(ISH) WALK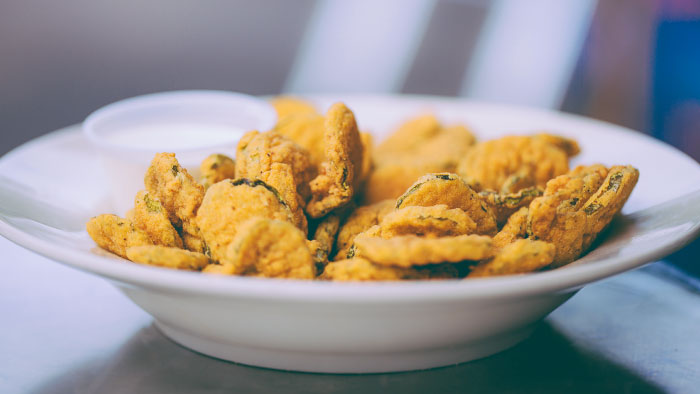 Wildhorse Saloon | 16-MINUTE WALK FROM MUSIC CITY CENTER
It wouldn't be a visit to Nashville if you didn't embarrass yourself trying to line dance. Head over to the Wildhorse Saloon to take line-dance lessons (they offer multiple lessons throughout the day) and listen to great music. While you're there getting your groove on, don't forget to try some of their famous fried pickles!
Husk | 16-MINUTE WALK FROM MUSIC CITY CENTER
Husk is a modern eatery in the heart of downtown Nashville that prides itself on offering dishes that only contain ingredients from the American South. The menu frequently changes and puts a contemporary spin on classic Southern food. Try the smoked-trout deviled eggs, or any variety of deviled eggs, really.
We hope you have fun exploring Nashville on foot. It's a great place to spend warm summer days and is packed with bars, restaurants, live music venues, and tasty food trucks. If you're looking for more to do or want a taste of the bustling nightlife, check out more things to do in Nashville here.