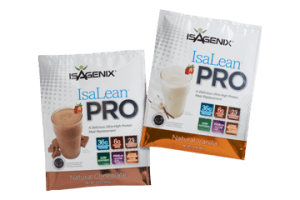 Ever wonder what's in our IsaLean® Pro that helps you achieve eye-popping performance results? Simple: a megadose of protein.
Available in Natural Vanilla and Natural Chocolate, this supercharged meal-replacement shake contains 36 grams of the highest quality of undenatured New Zealand protein. Our proprietary protein blend, Myo-IsaLean Complex™, contains a higher concentration of branched-chain amino acids and vitamins and minerals, which, when combined with regular exercise, is the secret to achieving peak performance!
Enjoyed pre- and/or post-workout, this protein powerhouse:
Busts through stubborn weight-loss plateaus
Builds lean muscle
Boosts your fat burning potential
Curbs hunger
Gluten-Free
Soy-Free
The best part: IsaLean Pro is individually packaged in premeasured packets so you can mix it easily while you're on the go. Just add it to an IsaShaker™ bottle full of your desired water and/or ice and enjoy!
For more information about IsaLean Pro, visit Isagenix.com and be sure to add a box to your Autoship today!