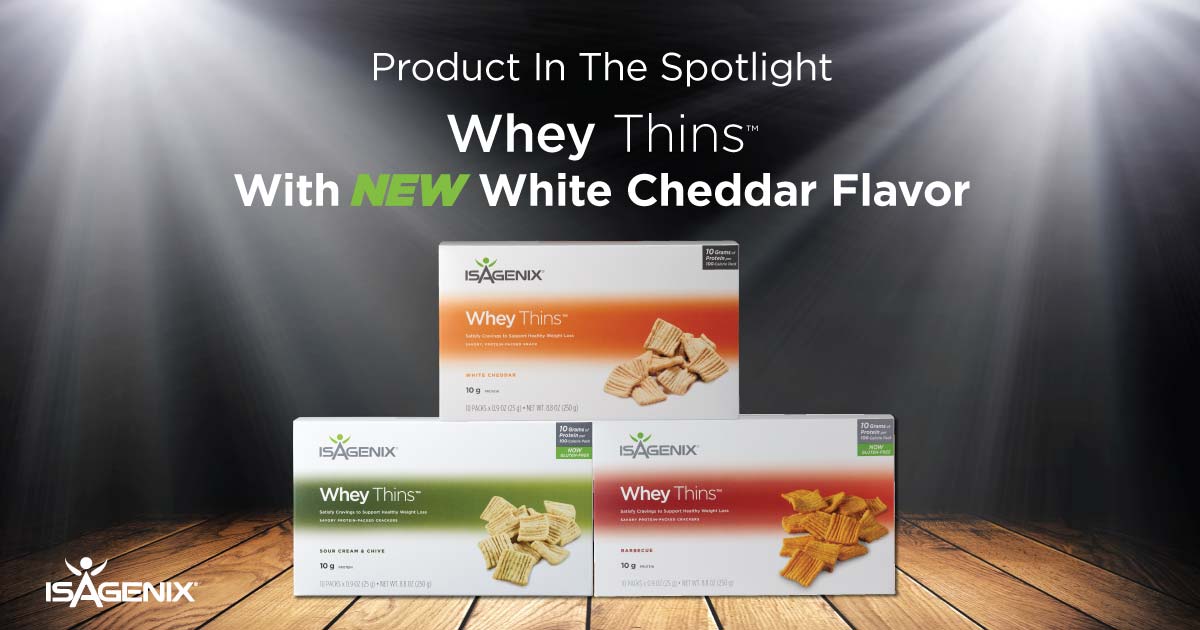 Isagenix gives snacking a whole new name with the 2017 Product in the Spotlight, Whey Thins™, and a completely new flavor: White Cheddar! You heard it right; your eyes and ears have not deceived you! Isagenix is proud to announce the third flavor installment of these tasty, savory snacks. We have expanded the Whey Thin family of Sour Cream & Chive and Barbecue flavors to add White Cheddar!
Good for Your Body
There may be a new flavor on the block, but do not fear; the same great benefits remain in the new White Cheddar Whey Thins. You still get 10 grams of high-quality undenatured protein to help support weight loss and lean muscle maintenance.  Plus, they're still gluten-free, providing options for those with dietary sensitivities or restrictions. And they're still a delicious and nutritious, protein-packed alternative to traditional snacking, which can easily lead to overconsumption.
Features and Benefits
A delicious, nutritious, protein-packed snack alternative.
10 grams of high-quality undenatured protein.
Convenient 100-calorie individual packs.
Gluten-free.
Approved for Cleanse Days.
Share With Everyone
They're the perfect addition to any system or pak and a great way to introduce new Customers to an Isagenix lifestyle. These tasty snacks are also approved for Cleanse Days, which means you can snack happy while fueling your body with wholesome goodness!
White Cheddar Whey Thins are available for $22/15 BV in the U.S. and $24/15 BV in Canada. Snack smarter with these convenient, 100-calorie individual packs!
Visit your Back Office, and add this new flavor to your Autoship today.