A 90-Day Game Plan is exactly what it sounds like: a customized, three-month guide to achieving your personal goals. At Isagenix®, we want to give you – our Associates – the tools you need to succeed and create financial freedom. The 90-Day Game Plan "could change your life forever. When you map out your 90-day goals, you put you and your team on the fast track for success. Who knows? You could even become our next Isagenix Millionaire,* simply by planning daily and developing your team," says Isagenix Co-Founder & Executive Vice President Kathy Coover.
Who Should Use the 90-Day Game Plan?
Anyone who is serious about building their Isagenix business to create financial freedom. If you want to succeed, a 90-Day Game Plan will help you identify the steps you need to take and the habits you need to build over a targeted space of time. Whether you're new to creating a network marketing business or you're ready to build your momentum, the 90-Day Game Plan is your ticket to focused success.
Why Should You Use a 90-Day Game Plan?
Because, well, science. A clinical psychologist at the Dominican University of California, Dr. Gail Matthews, has studied goal achievement. Her research found that participants who wrote down their goals achieved significantly more than those who only thought about their goals.
And what's more, the study also demonstrated the effectiveness of accountability and commitment. What does that mean? Participants who wrote down both goals and action commitments were more likely to achieve those goals. Better yet, participants who formulated action commitments, sent their goals and commitments to a supportive friend AND sent weekly progress reports to that same friend were the most likely to reach their goals. Use the 90-Day Game Plan in your team, and you are set up for true, consistent (and lasting!) success.
How Do You Create a 90-Day Game Plan?
To get started and create your 90-Day Game Plan, purchase a workbook and training DVD at IsaSalesTools.com or stop by IsagenixBusiness.com and download a copy of the 90-Day Game Plan Workbook.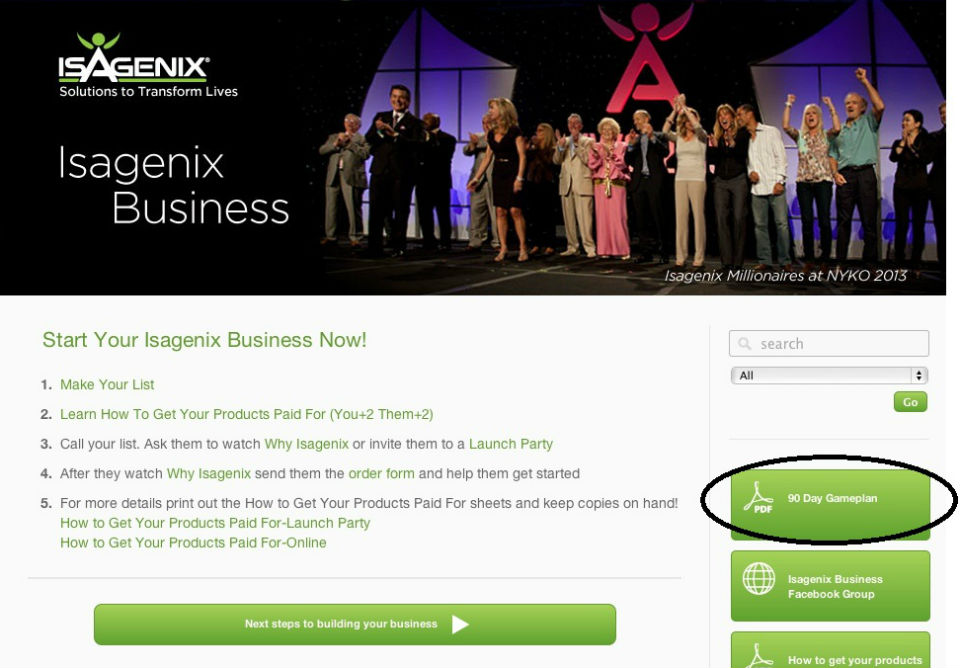 Then, it's just a matter of filling in the blanks. You'll:
Make the Decision and Commit
Establish Your "Why"
Identify Distractions and Eliminate Them
Get Your Business Set
Set Business Hours
Learn and Use the Tools
Develop Your Team
Setup Your Calendar
Create a Daily and Monthly Plan
How Do You Measure Success?
Everyone has room to improve somewhere in their life. By identifying what you want to get out of your 90-Day Game Plan, you can create the actionable commitments that will get you to your goals. Once you've done that, you can identify how you will measure your success. Will it be in the number of enrollments you process, the increased income you make, the improved skills and habits you develop? Remember, once you start your 90-Day Game Plan, NEVER GIVE UP! Your progress won't be perfect, but keep moving forward and focus on the positive impact you're creating instead of any mistakes you make along the way.
Get your 90-Day Game Plan started today by going to IsagenixBusiness.com and downloading the FREE 90-Day Game Plan Workbook. And, be sure to check out this 90-Day Game Podcast from Vice President of Sales Programs, Mac Larsen.
*Earning levels for Isagenix® Independent Associates that appear in this publication are examples and should not be construed as typical or average. Income level achievements are dependent upon the individual Associate's business skills, personal ambition, time, commitment, activity and demographic factors. For average earnings, see the Isagenix Independent Associate Earnings Statement found at www.IsagenixEarnings.com.