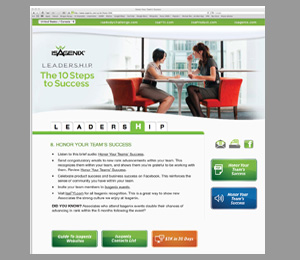 Welcome to the new IsagenixBusiness.com, your starting point for creating a successful, thriving Isagenix business!
Thanks to Co-Founder Kathy Coover's "10 Steps to Success," which are funneled into the acronym "L.E.A.D.E.R.S.H.I.P.," you now have the keys to unlocking a business that will grow exponentially as you follow the recommendations she created based on her own experience in the industry.
Plus, with a beautiful new look, streamlined and well-organized pages, and additional resources, this website truly is the "go to," duplicable resource that your newest business builders can easily follow!
So, what else is new on this helpful website? Take a look at the recent enhancements:
More Webinars From Top Leaders. Whether you're still trying to figure out your "why" or want to learn how to honor your team's accomplishments, our top leaders are here to give you their expert advice. Each step features leaders such as Michael Clouse, Susan Sly, Carolyne Rodrigues and Jay Bennett on special Webinars sharing their key coaching tips.
Print Your Step. Sometimes having a piece of paper in front of you can make a big difference; we get that! Now you can print out each step, check off what you've done or even share it with others quickly and easily.
Email Your Step. Stay accountable while you follow the 10 Steps by e-mailing your sponsor or coach and letting them know which step you're focusing on. This way, your coach will know your goals and will be able to follow up with you specifically on your progress.
Guide to Isagenix Websites. Our 14 top websites are now listed in one convenient place! Simply click on the button in the bottom right corner of the page to find all of our key websites ine one handy location.
Isagenix Contacts List. Whether you want to get in touch with Customer Care, ask a question about commissions or even contact our international offices, this large green button located at the bottom left side of the page will have what you need—no searching necessary!
Helpful Worksheets. Pens down, these worksheets will help you work through the basics and get your plan set and ready for action.
There's so much more to say about IsagenixBusiness.com, but now it's time to explore! Take a few minutes to browse the website and, even if you aren't new to the Isagenix business opportunity, get familiar with it and go through each step yourself.
Visit IsagenixBusiness.com, share it with your team members and bookmark it in your Internet browser right away!