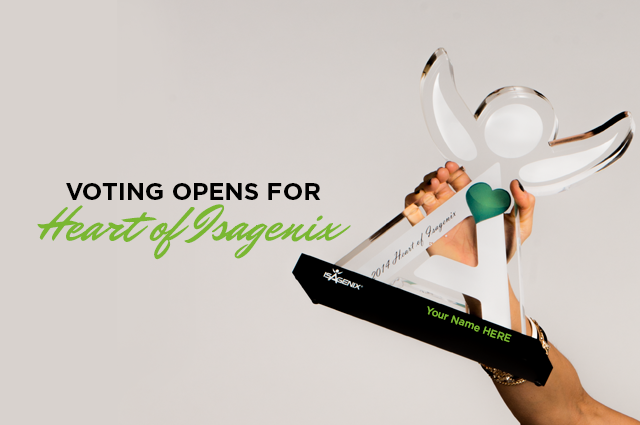 We've reviewed your nominations, narrowed it down to the top three, and now it's time for YOU to choose our 2015 Heart of Isagenix winner. Vote now through December 19. The next Heart of Isagenix Award will be presented onstage at our 2015 New Year Kick Off event.
Our finalists were selected because they…
go the extra mile to inspire others and help them to reach new heights
create direction and purpose for their team
exude passion for the Isagenix mission and our core values of integrity, freedom, wellness, family, passion, purpose and excellence
support everyone in their team as they work toward their personal goals
lead by example, from attending events to doing a 90-Day Game Plan or joining the IsaBody Challenge®
Meet the Finalists 
Why she was nominated:
"In my three-and-a-half years here at Isagenix, I have never witnessed anyone with more heart than Amy. She leads by example and never asks her team to do anything she wouldn't do. She runs educational calls and workshops for her team all of the time and uplifts them as well as her upline. She has taught me to be a better leader who leads from the heart."- Cathy S.
Carolyne R. & Steven B.
Fort Myers, FL
Why they were nominated:
"Carolyne has a heart of service. She is a true ambassador for Isagenix and is always available to help my team and I achieve the goals we set, constantly raising the bar to help us achieve more. Without her belief, encouragement, training workshops, and personal development opportunities, my team and I wouldn't be where we are today. I've been able to retire from my corporate job and enjoy the residual income that Isagenix provides. She's an amazing role model and I can't thank her enough." – Teresa V.
Johnnie & Rachel D.
Charlotte, NC
Why they were nominated:
"Johnnie is a person with amazing energy, passion, and knowledge you long to be around. He has battled with his health and won! He is an incredibly inspirational man that you want to scream about from the rooftops. He works countless hours to ensure his team is rewarded and working their hardest. It's an honor to know him."- Jessica J.
Who Earns Your Vote?
[my_contest_shortcode id=36666]