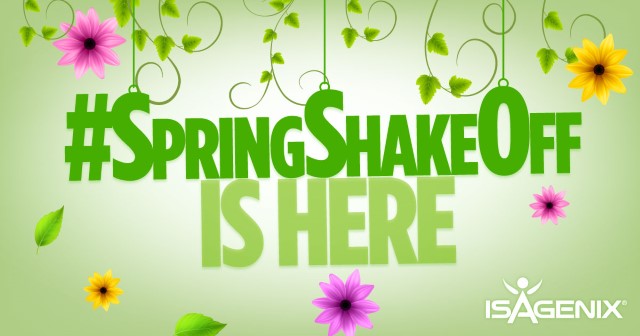 It's hard to believe that we are just a few weeks shy from celebrating our company's 15-year anniversary. What an incredible accomplishment! On March 23, 2017, we will celebrate 15 years of hard work, dedication, and commitment to becoming the largest health and wellness company in the world. To commemorate this momentous occasion, we are excited to announce the launch of our #SpringShakeOff!
Have you ever wanted to help choose the flavors of your favorite Isagenix products? Well, now is your chance! You can partake in the process! This interactive campaign lets YOU choose the new flavor to be featured as our anniversary IsaLean® Shake. This shake will represent the culmination of our journey as a company, and the foundation that got us to where we are today – our Isagenix family! This limited-time new flavor will be announced at Celebration 2017 in Las Vegas! Stay tuned to IsaFYI.com for more information.
Beginning today, March 6, 2017, you can log on to our Facebook page and start participating in live flavor voting! You will be able to use all of our social media channels, the Isagenix Facebook page, Instagram, and Twitter, to vote for the flavor you want to see as our anniversary IsaLean Shake. Make sure your vote counts by casting it on corporate Isagenix social media pages. Votes submitted through shared posts on personal pages will not be counted when determining the #SpringShakeOff winner.
KEY DATES
March 6 – Voting begins.
March 10 – Top eight flavors announced.
March 13 – Daily voting begins on flavor pairings of the top eight flavors.
March 20 (first day of spring) – Top four flavors announced.
March 24 – Voting of the top four ends.
We look forward to hearing your feedback. Happy voting!