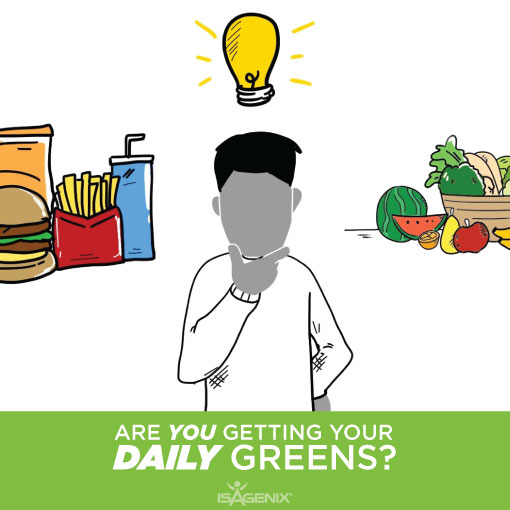 It's one month into the new year and you're still going strong, eating healthy, and working out. You're starting to see success with the 30-Day System, but you're wondering how to get more nutrients and vegetables in your diet. Enter, Isagenix Greens™.
What Is Isagenix Greens?
To start, it's a superfood. It's also a delicious, phytonutrient drink powder made from a proprietary blend of more than 30 vegetables, herbs, and botanicals. That's not all. See what other benefits come from consuming Greens.
Lose Stubborn Belly Fat
As a core component of the Bedtime Belly Buster (BBB), Greens mixed with IsaPro® Chocolate or Vanilla used at nighttime has become increasingly popular among those looking to banish stubborn belly fat. Try it for yourself!
Bedtime Belly Buster How-To
While the BBB isn't recommended on Cleanse Days it's the perfect Shake Day "nightcap." Take your BBB just before bed following these two easy steps:
Step 1: Mix Isagenix Greens and IsaPro (Chocolate or Vanilla) in an IsaBlender®.  Add ice if preferred or, for an added boost, include Fiber Pro.
             Tip: Because the mix foams so rapidly, shake the blender vessel vigorously before blending.
Step 2: Blend all of the ingredients for 30 to 60 seconds.
If desired, add a few ice cubes or crushed ice cubes and reblend. Enjoy this nutrient- and protein-dense bedtime treat alongside the IsaOmega™, Ageless Essentials™ Daily Pack, or the Isagenix Brain and Sleep Support System.
Be sure to add Isagenix Greens to your Autoship today, and for more information on this Product in the Spotlight, visit IsaProduct.com.