Isagenix recently announced a new online ordering process called Your Pak, Your Way that is now available across the world! This all-new system standardized the pricing and BV and allows you to customize your order with preferred flavor and packaging options.
After receiving important feedback from our field regarding the new configuration of our 9-Day Deep Cleansing and Fat Burning System, and thanks to the flexibility and capabilities of the new ordering system, we are glad to announce the following enhancements to the 9-Day system:
The 9-Day Deep Cleansing and Fat Burning System is NOW available with the following options and pricing:
(1) IsaLean® Shake, (2) Cleanse for Life®, (1) Isagenix Snacks!™, (1) Natural Accelerator™
WITH the option of
(1) e+™ (6ct) for $157 and 106 BV
OR
(1) IsaDelight Plus™ (Milk or Dark Chocolate) for $177 and 120 BV
OR
(1) 5-Piece Sample Pak for $148 and 100 BV
All three options offer a 5% Autoship Rewards discount.
Try e+, the naturally-caffeinated and Adaptogen-filled energy shot that can be taken on Cleanse Days, if you need an extra boost of energy. An Isagenix study found e+ is an effective tool in supporting weight loss with the 9-Day Deep Cleansing and Fat Burning System.  At the end of a nine-day trial, those who consumed e+ daily, trended toward greater weight-loss results than those who didn't consume e+ daily, based on pounds and percent weight loss. See the results.
Or experience our power-packed, delicious, creamy IsaDelight Plus milk and dark chocolates that support mood, curb cravings, increase energy and burn fat.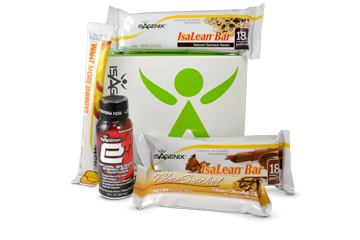 With the 5-Piece Sample Pak you can enjoy individual servings of some of our most popular products like FiberSnacks!™ and IsaLean Bars. Or simply have samples of our most-loved products right at your fingertips to share with anyone you meet.
Check your Back Office for current pricing and BV levels on all of our products, paks and systems. If you have questions or concerns regarding any future orders please contact our Customer Care team at 1-877-877-8111.