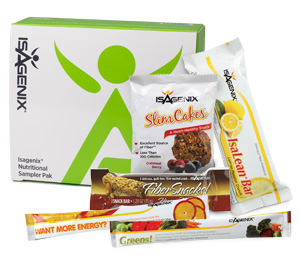 Two of your favorite products are getting exciting new updates: the 5-Piece Sample Pak and the 30-Day Cleansing and Fat Burning System.
New Updates to 5-Piece Sample Pak on the Way
The 5-Piece Sample Pak is a great way to try some of our most-loved products as well as share them with friends and family. To make sure you don't have to pay an extra fee with the U.S. Summer Cooler Program and also give you the chance to try a few new popular products, we are updating the contents in the 5-Piece Sample Pak
Starting at the end of April, the newly reconfigured 5-Piece Sample Pak will include our low-calorie, heart-healthy SlimCakes®; one serving of our delicious whey protein-rich meal replacement IsaLean® Bar in Lemon Passion Crunch; one stick of our green superfoods supplement Isagenix Greens!™; one peanut-free, fiber-rich FiberSnacks!™ in Honey Almond Crisp and one stick of Orange Want More Energy?®.
Easier Way to Order the 30-Day
Our cornerstone 30-Day System will be even easier for you to order in your Back Office starting Wednesday, April 25.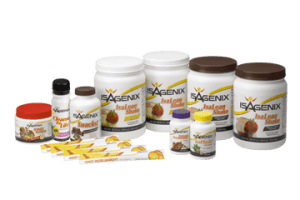 Our new streamlined drop down menu options makes it even easier for you to choose your system:
Customize your system by choosing from the following:
Cleanse for Life® (powder, liquid or 2-ounce liquid bottles)
Ionix® Supreme (powder or liquid)
IsaLean® Shake flavor, (canisters or packets)
And, add a box of Ageless Essentials™ Daily Pack or Ageless Essentials with Product B if you wish!
This customization allows you to create the perfect system without having to search for the right option.
Please note, that if you add the new, convenient two-ounce Cleanse for Life® bottles or the IsaLean Shake packets to your 30-Day System, there will be a slight increase in cost due to the convenience packaging. 
For more product updates, visit IsaFYI's "Product" page.