Why Erin P. is Conquering Her 40s and How She Became Isagenix Millionaire No. 165!
"I just turned 40 when I started with Isagenix, and at that time, I was constantly exhausted, uninspired with my day job, and living paycheck to paycheck," Erin remembers. With intense focus and incredible time, effort, and dedication, Erin turned it all around within three years. While that might sound like a short time to some, to Erin it meant 1,095 straight days of hard work, countless ups and downs, and a lot of selfless energy.
Climbing the Isagenix Tree at the Age of 40
"My initial weight loss with the products changed the course of our lives forever. I fell in love with sharing Isagenix and helping friends and family feel as great as I felt," Erin says.
Married to her hero husband for over 20 years with two adorable daughters, Erin's home life was certainly a busy one. With her husband's profession as a search and rescue technician for the Royal Canadian Air Force, Erin and her family were constantly on the move—never able to settle into one community or one home for too long.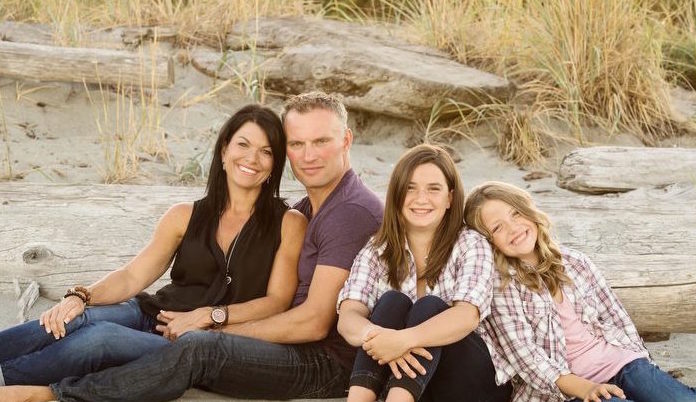 "With my full-time job as a school counselor, running a life-coaching business, and wondering when our next military move would be, it was incredibly difficult to add climbing the Isagenix tree into the mix," she says, "but because I was so passionate about helping people, I stayed strong."
Having Fun at 41
After using the Isagenix products and systems consistently and hitting her workouts strong, Erin discovered she had way more energy while getting into the best shape of her life. "That energy helped fuel my business, too. In my first 90 days, I was an
IsaDerby™ winner! I was blown away by the recognition, the trip, and the opportunity to spend time with Isagenix Co-Founder and Executive Vice President Kathy Coover," Erin says.
That trip meant the world to Erin. It proved to her that she was truly making a difference in people's lives and having a blast doing it. However, despite all of her success, she still felt that her life was out of balance.
"I struggled to balance my time between working and spending time with my family," she remembers. "I knew I needed to make some changes, create a schedule for myself, and stick to it."
Loving What You Do at the Age of 42
"I always had a burning desire to help others live their best life," Erin says, "but I couldn't do it all." Thankfully, because of Erin's unmatched work ethic and desire to share Isagenix with everyone around her, she was able to leave her counseling job, end her life coaching business, and stick with Isagenix full-time—finally achieving the work-life balance she so desperately needed.
"There wasn't anything easy about it, but when you love what you're doing with all your heart, it makes all the difference in the world," she says. "Now I get to walk our dogs, hang out with my husband, and not only attend our daughters' sports activities, but afford to pay for them too!"
Feeling Free at 43
Erin is conquering her 40s. By 43 years old, she has built an incredible business while helping others succeed the way she succeeded. She was an IsaBody Challenge® finalist and has competed in fitness competitions. Erin has proved that age is just a number—that if you
set out to accomplish big goals and work unbelievably hard to turn your dreams into realities, age will never stand in your way.
Erin says, "I believe that everyone deserves to live in a body they love and have a life they love."
With her husband semi-retired from the Royal Canadian Air Force, Erin and her family were finally able to settle into one community and avoid moving every three years. They were able to spend more time together as a family than ever before. And at 43, Erin was honestly able to say, "I feel free."
Today, Erin is 44, striving for more, so alive, and is Isagenix Millionaire No. 165!
Congratulations to Erin P., our newest Isagenix Millionaire!
Learn how you can get recognized, set your next rank advancement goal, and motivate your team members to excel.
Isagenix Millionaires are defined as Isagenix Associates who have cumulatively earned $1 million or more with Isagenix.
*Weight loss should not be considered typical. In a study performed in 2012 by University of Illinois at Chicago researchers, subjects lost an average of 9 pounds after 30 days on an Isagenix System. The subjects also had a greater level of adherence and had more consistent weight loss from week to week compared to subjects on a traditional diet.
**Earning levels for Isagenix Independent Associates that appear in this publication are examples and should not be construed as typical or average. Income level achievements are dependent upon the individual Associate's business skills, personal ambition, time, commitment, activity, and demographic factors. For average earnings, see the Isagenix Independent Associate Earnings Statement found at IsagenixEarnings.com.