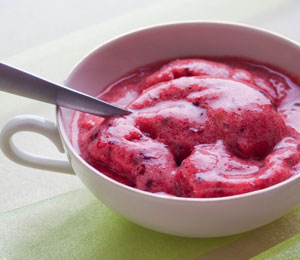 Are you looking for another way to enjoy your Natural Rich Berry Cleanse for Life®? Add some variety to your Everyday or Deep Cleanse Day routine with this delicious new recipe, which offers a sorbet-like, icy cool experience that's perfect for the warmer days ahead.
Submitted by Kathy L., the "Cool Cleanse Sorbet" drink mixes Cleanse for Life powder and IsaFruits® to create a delicious, creamy, ice-cold, fruit-favored drink. Together, these powerful products help rid your body of everyday impurities and restore it back to its natural balance. Plus, you'll also get a portion of your daily recommended fruits—one scoop of IsaFruits has the same antioxidant strength as 20 pieces of fruit, increases your energy and boosts your mental clarity.
Wondering how to make this delicious new drink? Here's what you'll need to get started. Enjoy this sweet treat instead of a decadent dessert and you'll be swimsuit-ready in no time!
Have a healthy recipe featuring an Isagenix® product that you would like to share? If so, send it to Recipes@IsagenixCorp.com.
For more low-calorie recipes, visit Isagenix.com, select the "Products" tab and then "Recipes."