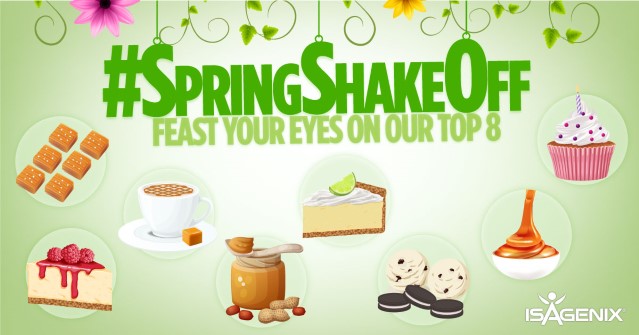 The #SpringShakeOff is officially in full swing! We are ecstatic to see so much excitement surrounding the 15-year anniversary of Isagenix and hope you are enjoying this interactive campaign! Over the last four days alone, we have had over 42,000 votes across Facebook, Twitter and Instagram – in addition to thousands of comments from our loyal social media followers and Customers!
The initial round of voting for this limited-time IsaLean® Shake is complete. We've tallied all of your votes so far and have narrowed down the top eight flavors still in the running to become our anniversary IsaLean Shake!
In no particular order, those flavors are…(drumroll, please):
Dulce de Leche
Key Lime Pie
Caramel Latte
Peanut Butter
Birthday Cake
Cookies and Cream
Raspberry Cheesecake
Salted Caramel
Don't forget there's still time to let your voice be heard in the #SpringShakeOff. Visit our corporate social media channels – the Isagenix Facebook page, Instagram and Twitter – on March 13 to participate in the next round of voting!
Here are a few key dates to remember:
March 13 – Daily voting begins on flavor pairings of the top eight flavors.
March 20 (first day of spring) – Top four flavors announced.
March 24 – Voting of the top four ends.
Stay tuned to IsaFYI.com for more details on the #SpringShakeOff as we approach Celebration 2017 in Las Vegas where we will announce the winning anniversary IsaLean Shake flavor!
To join in on all the fun, make sure you follow all of our corporate social channels, and subscribe to our IsaFYI Feedblitz at the top of this page.