Receive 20 percent off the brand-new 90-Day Game Plan workbook now through the end of September with the promotion code "90DGP"!

This all-new workbook is packed full of Isagenix business-building wisdom and tips from the 2016 "One Team" Celebration trainers themselves. Isagenix experts have come together to offer you the best training we've ever offered.
What's Inside?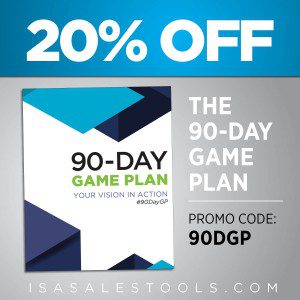 Exercises to help you…
Clarify and connect with your "why"
Develop connecting skills
Get in the right mindset
Get new members started right
Create your contact list
Develop a strong and supportive team
Set your goals
Stay accountable
Get your vision in action!
Take advantage of this promotion to order a workbook and follow the training. For additional support, you still have the opportunity to watch all the 90-Day Game Plan training through Celebration On Demand.
Don't wait! This is a limited-time offer. Simply visit IsaSalesTools.com and enter the promotion code "90DGP" at checkout to receive your 20 percent discount.