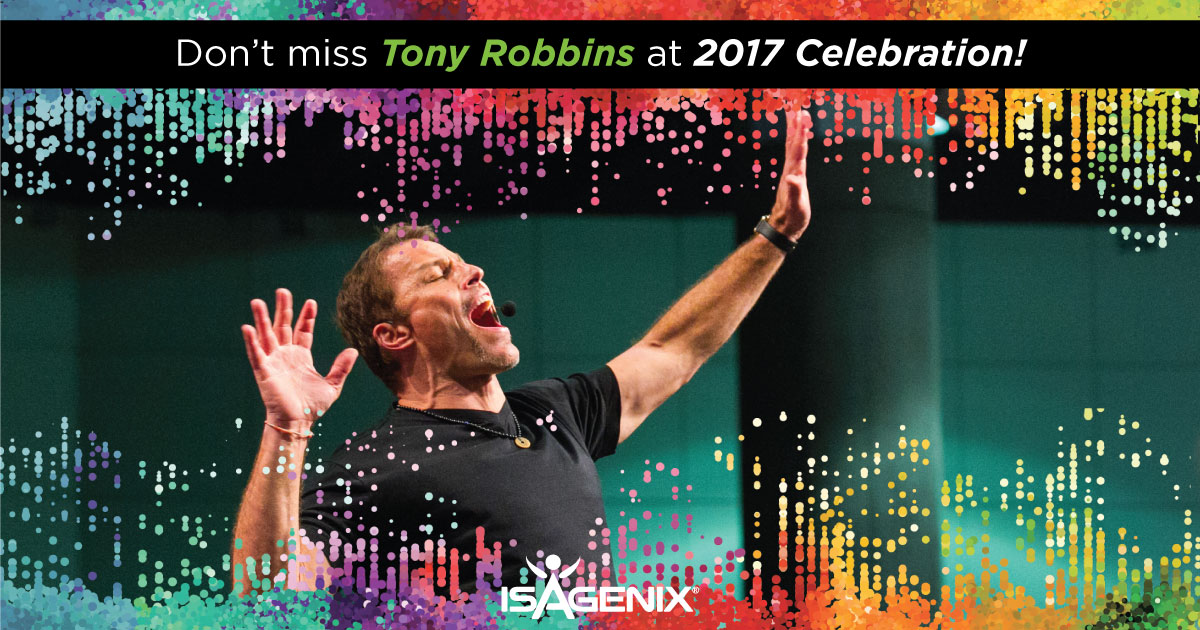 We are overjoyed to welcome a very special guest keynote speaker to join us this upcoming August at Celebration 2017 in Las Vegas, Nevada – Tony Robbins!
Tony is a world-renowned entrepreneur, best-selling author, philanthropist, and the nation's No. 1 life and business strategist. He created the top two personal and professional development programs in history and has impacted more than 50 million people through his live seminars, audio programs and video programs. Now, Tony is headed to Celebration to share his knowledge and advice with the Isagenix family!
"We want our Associates to have the best, and that's why we have Tony Robbins coming to Celebration 2017," Kathy says. "He is the No. 1 success coach in the world. He will teach us how to achieve our goals by using proven practices every day. Many of you have shared with me that he is on your bucket list, so we brought him to you for three hours of can't-miss training."
Tony is inspired by our vision to impact world health and free people from physical and financial pain. Taking the stage on Day 3 of Celebration, he will tell you how you can find and maintain an "inner drive to do more, to give more, to be more and to never settle for less than you can be." By attending Celebration and hearing Tony speak, you can expect to learn how to get rid of the things that are holding you back from growth; lead, drive and motivate people; and take your business to the next level!
Want to know who is training alongside Tony Robbins at Celebration 2017? Meet the trainers! 
Get Your Tickets to 2017 Celebration
Celebration is already SELLING OUT, and after this special announcement, tickets will go faster. If you don't want to miss your opportunity to receive life-changing training from Tony Robbins and all the top Associate and corporate trainers at Celebration, then you need to head over to IsagenixEvents.com, and secure your tickets NOW!
We can't wait to see you there!