Here at Isagenix®, we have a lot of news to share. From product announcements and the latest scientific health studies to the technical tools that help you grow your business, we have you covered.
What you may not know is that you can get our blogs sent directly to you!
On each of our blog sites you'll find this sign-up box: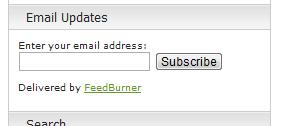 …in fact, if you're reading this on IsaFYI.com right now, you can see it on the right side of the page.
When you subscribe to our blogs via email, you'll get that day's stories sent directly to you. Each blog has its own sign-up, so you'll have to do this for each one you want to receive. Your choices are:
IsaFYI.com – Get the latest news on products, promotions and business-building tips.
IsagenixHealth.net – Learn the science behind Isagenix and how our product's ingredients benefit your health.
IsaGeeks.com – Be the first to discover new business tools and read stories from the tech world that impact how you market online.
If at any time you want to stop receiving these updates, simply click on the, "unsubscribe" link located at the bottom of each email. (This email service is operated through Google, so you will not find an "unsubscribe" option in your Back Office.)