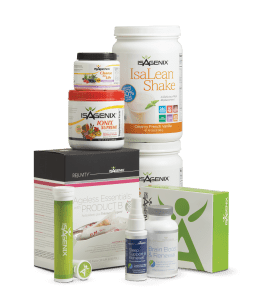 Look and feel years younger with the Healthy Aging and Telomere Support System™! The new solutions-based system helps keeps you on track with your favorite 30-Day Cleansing and Fat Burning System. It also targets the underlying cause of aging with Ageless Essentials™ with Product B™ by providing cutting-edge nutrition for telomere health.
Ageless Essentials with Product B is our supercharged multivitamin pack containing your daily dose of vitamins, minerals, antioxidants and special age-defying nutrients that are propriety to Isagenix and like no other on the market. One 30-day supply of individually wrapped A.M. /P.M. packets includes Essentials for Men™ or Women, Ageless Actives™, IsaOmega Supreme®, C-Lyte® and twice daily Product B.
In addition to the youthful-aging benefits of "B", you'll also:
Experience higher energy levels
Release weight and maintain muscle
Promote greater health and longevity
Plus, you'll get our tasty 5-Piece Sample Pak and the option to add-on the Isagenix® Brain and Sleep Support System targeted solution.
Formulated by Isagenix Scientific Advisory Board member Dr. Michael Colgan and Isagenix scientists, this revolutionary two-product system includes Sleep Support & Renewal™, a melatonin spray, and Brain Boost & Renewal™, nutrient-infused capsules that help increase memory function for a more restful night's sleep.
For more information on the Healthy Aging and Telomere Support System, visit Isagenix.com.