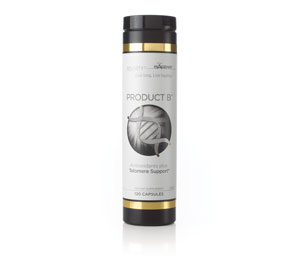 You've heard the buzz. You've read the reviews. Now, for a limited time get the revolutionary product that is adding years to your youth for a fraction of the cost: Product B™ Antioxidants plus Telomere Support!
From now until July 15, you can take advantage of this special offer and get Product B for $49 and 32 BV per a 120-count bottle.  (That's a $28 savings!)
There's no better time to try Product B and share it with friends and family. Don't take our word for it, here's what some Associates are saying:
"After adding Product B to my regimen of using the Healthy Aging and Telomere Support System, formerly called the Pillars of Health, [Cleanse for Life®, IsaLean® Shake, Ionix® Supreme and Ageless Essentials™ Daily Pack] friends have commented on how good I look! I feel I have increased energy and more stamina, too. I'm amazed at what I have noticed in such a short period of time. I love it!" – Deborah K. Niagra Falls, NY
"My energy went through the roof. I recently went on a trip to Europe, and I didn't feel sluggish with the time change. Every day keeps getting better and better."– Susan S. Ontario, CA
Hurry, supplies are going fast!
Here's how you can get in on the deal:
New Members:
1. Enroll a new Associate who joins on Autoship or places a wholesale order of 164 BV or more
2. Add up to five Product B bottles to the order
Existing Members:
1. Join Autoship* or place a wholesale order of 130 BV or more
2. Add up to five Product B bottles to your order
To place an order, log in to your Back Office "My Orders" section. Select "Rejuvity®" from the left hand column and choose the appropriate number of bottles (up to five!) you would like to order.
Please note that the Product B promotional discount does not apply to Ageless Essentials™ Daily Pack with Product B™.
For more information on Product B, check out this flyer.
*Autoship orders must be place prior to July 15 to enjoy reduced price. Orders shipped on or after July 16 will not be eligible and will convert to normal pricing.