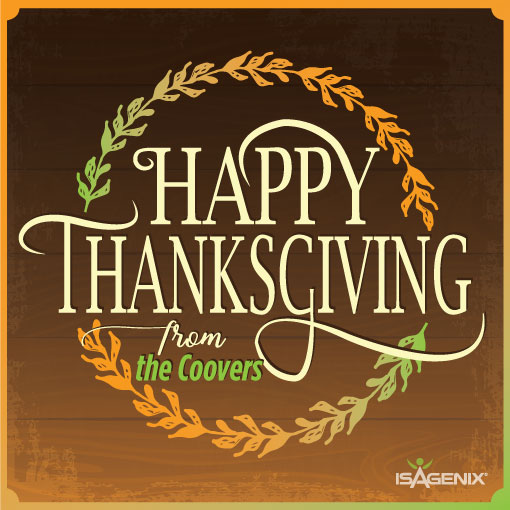 Happy Thanksgiving!
Today is all about family, friends, good food, laughter, and new memories. As Jim, Erik, and I gather around the table with our loved ones, we will make a toast that includes giving thanks to all of you.
Family is a core value for Isagenix. We believe that people will always do more for others than they'll ever do for themselves, and we cultivate this by creating and maintaining a strong family focus, from our corporate team to our amazing field of Associates around the world who share our products and our vision.
When Jim and I started Isagenix with John W. Anderson, we had a vision to impact world health and free people from physical and financial pain, and in the process, create the largest health and wellness company in the world. Using direct sales as our vehicle to share this vision, we knew we would be doing it one person at a time. Now, almost 15 years later with more than 550,000 Customers, we feel like we're just getting started.
Looking back over the last year, we have accomplished so much as One Team. We moved into our brand-new world headquarters, welcomed thousands of new Customers into our growing family, launched exciting, new products, and defined where we are going in the future.
From our family to yours, thank you for making a difference in so many lives. Thank you for your continued commitment to your personal health and to Isagenix. Together, we are changing lives; together, we are Isagenix.
Sincerely,
Kathy, Jim, and Erik
Customer Care Hours & Tours 
In observance of the Thanksgiving holiday, our U.S. office hours for the remainder of the week are listed below. Normal business hours for Customer Care and Will Call will resume on Saturday, November 26.
Thursday, November 24 
Phone: Closed
Chat: Closed
Will Call: Closed
Friday, November 25 
Phone: 6 a.m.–5 p.m.
Chat: 8 a.m.–5 p.m.
Will Call: Closed
Will Call has scheduled a special one-time warehouse delivery on Saturday, November 26, to help alleviate wait times on Monday, November 28. Orders for Saturday pickup must be placed no later than 11:59 p.m. ET on Friday, November 25; otherwise, orders will be available to pick up Monday, November 28.
Isagenix Tours
Tours will not be available on Friday, November 25. The normal tour schedule will resume on Friday, December 2.