"Having the mindset that you're capable of winning is so important, so I have a mantra," says Shane. "'I am Shane Perkins, and today is my day.' I've taught myself to tell that negative voice in my head, 'Thanks for coming, and see you later.' That's all I need, and then I'm ready to go into the race and let it rip."
Shane has been racing with this mindset since he became a professional track cyclist for Australia at the age of 17. An accomplished rider, he has won two World Championships, earned a bronze medal in the 2012 London Olympic Games, and is a Commonwealth Games Gold Medalist. Recently, he added to his long list of achievements by making history in the Japanese Keirin circuit.
Keirin is an extreme sport in which cyclists circle a track on a fixed-gear bike with no brakes. The sport started in Japan in the 1950s and became an Olympic event in 2000. Each year, only five international riders from around the world are invited to Japan to compete in the Keirin circuit. Shane has been one of those riders every year since 2009.
Historically, international cyclists have only been permitted to race Keirin in a category called F1, but in September, Shane was one of three riders invited to race in a higher category, the G3. He became the first international rider to win a G3.
"It's quite a special feeling to be able to take that win and go down in the history books," says Shane.
Fueled by Isagenix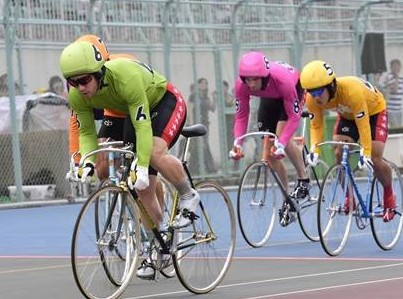 To reach this level of racing, Shane commits to an intense training schedule with double-session days six days a week.
"To support that training and recovery, I depend on Isagenix products," he says. "I want to get as much out of my body as I can while I have the opportunity to be at the highest level in sports, and the Isagenix products help me achieve that lifestyle."
Shane's typical week includes three gym sessions, four track training sessions, and three to four aerobic sessions.
"The Isagenix products support my workouts from day to day with the high-quality protein, and leading up to a race, they can even help when trying to do a slight weight cut in a healthy way," he explains.
When riding over the course of four days at the G3 Keirin race, Shane stayed fueled with three IsaLean® PRO Shakes and a couple of IsaLean Bars per day.
"The products are a staple in my diet," he says. "It's amazing what you can achieve with great nutrition."
As a member of Team Isagenix, Shane loves the position he's in to help other athletes achieve their goals with Isagenix.
"A lot of people are afraid to use products because there are a lot of products out there that don't necessarily stick to this level of safety protocols or have the same quality ingredients," he says. "I can show people that I have complete faith in Isagenix products."
Training Insight From a Champion
Don't question your training. One of the biggest mistakes athletes make is changing their training routine because they're worried whether they've done enough. Trust your coaches, and commit to your program.
Relax and enjoy the weeks leading up to competition. In the last few weeks before a competition, make it a point to relax and enjoy the training. You'll start to feel refreshed, and your body will be more recovered.
Stay positive. Develop strategies to pick up on the doubt when it starts creeping into your mind, and remember that's not what you're here to do. Stay positive, and remember your mantras.
You don't have to be an athlete to benefit from this amazing group of Associates. Stay tuned to TeamIsagenix.com for the latest news and updates.
See if you have what it takes to join Team Isagenix.