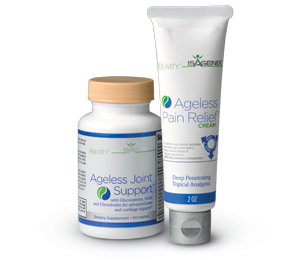 When pain hits, you don't have time to shop for products that don't work. Rely on the one system that is proven to provide life-long joint health: the Rejuvity® Joint and Pain Relief System! Together, this two-product system will alleviate any pain you are experiencing and get you back on your feet.
Applied at the first sign of pain, Ageless Pain Relief Cream™ is a deep-penetrating, fast-absorbing topical cream that provides immediate relief to muscles and joints due to arthritis, backaches, muscle strains, sprains and bruises. Made from all-natural menthol and methyl, this greaseless formula provides an instantaneous cooling sensation followed by applied heat to ease the tension in your muscles.
Ageless Joint Support™ goes deeper and gets to the root of the problem. This doctor-formulated supplement contains 19 joint-healthy ingredients, including high-quality glucosamine, chondroitin and herbal extracts that soothe joint flare-ups and rejuvenate healthy joint cartilage and growth. Taken three times a day, this supplement accomplishes what it takes multiple over-the-counter products to do.
Looking to kick pain to the curb?
Take advantage of the new solutions-based shopping experience and add the Rejuvity Joint and Pain Relief System to the new Every Day Essentials Pak. Found in the wholesale catalog, this new pak takes the guesswork out of your health nutritional needs by including the foundation of IsaLean® Shakes and Ageless Essentials™ with Product B. From there, you can add up to nine tailored solutions, including joint support.
To add this pak to your Autoship, log in to your Back Office "My Orders" section and select the "Lifestyle Systems & Paks" tab followed by the "Other Popular Paks" tab to locate the "Every Day Essentials Pak."
For more detailed information on the Rejuvity Joint and Pain Relief System, check out this webinar.
http://youtu.be/T1S3xTEoPRM