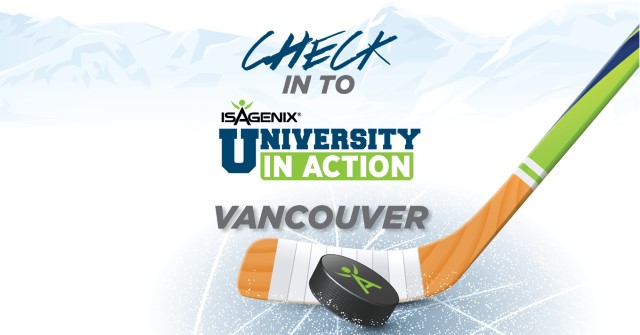 We are bringing University in Action (UIA) to Vancouver, and we want you to join us for three days of personal development, leadership training, and networking. Whether you are new to Isagenix or a seasoned business builder, this event offers valuable training to help launch, grow, or explode your Isagenix business!
If you are ready to establish the mindset and skills you need to become a professional network marketer, UIA Vancouver is the event for you! Roll up your sleeves, and take part in this interactive, hands-on training that will help you tear down self-doubt and build confidence to connect authentically, lead a more fulfilling life, and become a better leader.
Meet Your UIA Vancouver Trainers
We have a fantastic lineup of industry-leading trainers for this event. These top leaders have spent many years practicing and perfecting the art of network marketing and have important knowledge and experience to share. They are eager to take the stage in Vancouver, and they want you to be in the audience!
Kyle Nekrash, Isagenix Millionaire,* 7-Star Golden Circle, 3-Star Executive
As a former massage therapist and business owner, Kyle's long hours and stress were wearing on his health and affecting his time with his family. This Isagenix Millionaire* has regained his health and created time and financial freedom. He now has the opportunity to spend quality time with his two children, travel, give back to his community, and use Isagenix to help others.
"Don't deny yourself the possibility of a growth that you don't know. At University in Action, you get to go to work, and you get to build your foundation of action steps." – Kyle Nekrash
Shannon Fisher, Isagenix Millionaire,* 8-Star Platinum, 3-Star Crystal Executive
At 26, Shannon was searching for a way to prepare financially for her dream of starting a family with her husband. As a massage therapist, she worked varying hours and was exhausted all the time. Since committing to Isagenix, this Isagenix Millionaire's* life has completely transformed. She has optimal health, three beautiful children who she supports through her residual income, and the opportunity to contribute to the world in an impactful, positive way.
"University in Action is just that—action! It's taking and understanding a template and putting it into momentum. Whether you are just getting started or you have been here for a long time, the basics are what build this business. We can always continue to improve, grow, and strengthen our skills." – Shannon Fisher
Rob & Nicole Stewart, Isagenix Millionaires,* 7-Star Golden Circle, 9-Star Crystal Executives
Rob and Nicole are no strangers to working a 9-to-5 job. Prior to Isagenix, Nicole was a registered kinesiologist and certified life coach, and Rob was a corporate executive. While they both were successful in their respective careers, they were trading time for dollars and had less time to spend as a family. Now these Isagenix Millionaires* have the opportunity daily to make a positive impact on the lives of others, be more present in their daughter Ashley's life, contribute to charities, and travel all together.
"I think that University in Action is my personal favorite because I truly feel like you are rolling up your sleeves, learning the skills, building the belief, and immersing yourself in it. By going to UIA, you are speeding up your development and growth." – Rob Stewart
"University in Action is one of those essential courses that helps you put it all together…It's not only learning the skills, but it's practicing them over and over until you master them so you can have a solid foundation to build a very successful Isagenix business." – Nicole Stewart
Shawn Owen, Isagenix Millionaire,* 5-Star Golden Circle, 2-Star Executive
Before Isagenix, Shawn was a corporate executive, traveling three weeks out of every month and working 60-hour weeks. His stress and schedule were affecting his health, causing him to feel distant from his family, as he often had to miss important milestones in his children's lives. Now this Isagenix Millionaire* has created freedom for himself and others around the world, working alongside his beautiful wife Kari-Lyn. Plus, he can choose when and where he travels and never misses one of his children's activities.
"Building this business is about building your beliefs. Belief that you can do it. Belief that the opportunity is right for you. Belief in the company and in the products. University in Action is an event that I always mark on my calendar because it is a transformational experience where people dive in and actually get to work on those beliefs." – Shawn Owen
Jen Newman, 5-Star Golden Circle, 2-Star Crystal Executive
As a triathlete and former gymnast, Jen had always searched for the best nutrition to fuel her body and just couldn't seem to find it. After trying Isagenix and seeing a boost in her training performance, she wanted to share the products with others. Jen committed to building the business and was able to not only replace her massage therapist income and pay back her debt, but also help support her family financially during a difficult time.* As another bonus, she now has the ability to give back and contribute to others every single day.
"You come away from this event 'in action,' and that's the difference! This event gives you the practical skills so you walk away saying, 'Now I know what to do, and I feel confident to go out in the world and do it!' I believe this is what makes successful network marketers." – Jen Newman
Ready to Commit to UIA Vancouver?
Don't miss the opportunity to learn from these top Isagenix leaders and develop action items and strategies to implement into your business immediately.
To save your spot at UIA Vancouver, visit IsagenixEvents.com,  and click "Register" today!
Ranks current as of April 13, 2016.
*Isagenix Millionaires are defined as Isagenix Associates who have cumulatively earned $1 million or more with Isagenix. Earning levels for these Isagenix Independent Associates substantially exceed the average results achieved by all Associates during the same time periods and should not be construed as typical or average. Income level achievements depend on many factors, including the individual Associate's business and networking skills, personal ambition, time commitment, work habits and other abilities. For average earnings, please see the Isagenix Independent Associate Earnings Statement found at IsagenixEarnings.com.