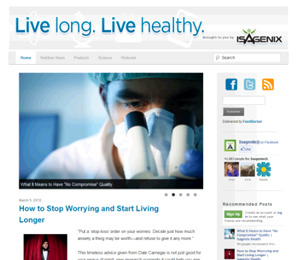 You could win $138 in FREE product just for taking a quick survey!
From Wednesday, March 7 to Wednesday, March 14 at midnight, fill out a brief survey about the content and navigation of IsagenixHealth.net and you will be automatically entered into a drawing to win a FREE box of Ageless Essentials™ Daily Pack with Product B™. (That's a $138 value!)
Ageless Essentials Daily Pack with Product B is one of the most complete multivitamin packs on the market and include individually wrapped A.M./P.M. packets containing your daily dose of vitamins, minerals, antioxidants and age-defying nutrients. Each easy-to-use packet includes: Product B Antioxidant plus Telomere Support, Essentials for Men™ or Women, Ageless Actives™ and IsaOmega Supreme®. Plus, you get a boost of C-Lyte® in the morning.
After you take the survey, your suggestions will be compiled and used by the Isagenix® Research and Development Team to make the website even better.
To access the survey, log in to your Back Office and go to your "IsaMail" section to find the IsaMail message entitled: "Take a Quick Survey to Win $138 in Free Product." Open it up, click on the "Take the Survey" button and share your thoughts. Once you complete the survey, a box will pop up to confirm that you have been entered into the drawing.
On March 19, five lucky, randomly chosen winners will be notified that they will receive a free box of Ageless Essentials Daily Pack with Product B. We'll simply add a coupon to your IsaMail with the details and you can use it on top of your next Autoship order. Keep checking your IsaMail to see if you are one of the lucky winners!
Tell your team members to also take part in this survey, too! The more feedback we receive, the better.
For more information on nutritional news and product information, visit IsagenixHealth.net.