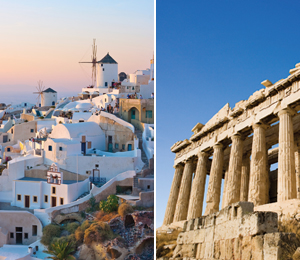 How would you like to join Isagenix® Co-Founders Jim and Kathy Coover on the next President's Quest's ultimate seven-day cruise to the Greek Isles and Ephesus?
Well, here's your chance! To earn your exclusive spot aboard the luxurious Seabourn Quest, simply perform like a Millionaire in Action (MIA) from July 1, 2012 to June 30, 2013 and remain an active Executive or above for a minimum of two weeks or more a month. (Remember, the more weeks you remain "active" in one month, the higher your overall monthly MIA score will be.) The top five, point-earning businesses to reach this prestigious rank the most will be invited.
The prize is a Greek island hopping getaway cruise for two with the Coovers! Departing Greece and arriving in Turkey, you and a guest of your choice will enjoy seven, sun-filled days aboard the most luxurious vessel at sea. Enjoy a penthouse suite with sweeping ocean views, award-winning cuisine and a unique itinerary to must-see cities and hidden gems where larger ships cannot go.
For more information on the incredible once-in-a-lifetime cruise, check out this article or watch this video.
http://youtu.be/pIpoGK2oR4U