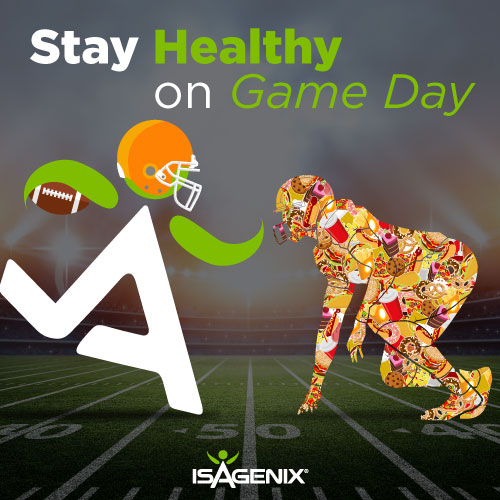 Score Big With Weight Loss
Whether you're tailgating, watching from home, or going to the best wing place in town, we know that the last thing you want to worry about on game day is eating healthy. In those moments, your only concerns should be cheering on your favorite teams and counting the score, not your calories. At Isagenix, we know how important it is to have fun – it's one of our values. So, if you want to keep the good times going without sabotaging your weight loss goals, check out our top tips for staying healthy on game day.
While Tailgating
Eat before you go, and bring snacks. One of the best ways to avoid overindulging on high-fat and salty foods is never showing up to a tailgate hungry. Be sure to have a nutritious breakfast like your favorite IsaLean® Shake, and don't be afraid to bring your own snacks like Whey Thins™ or Slim Cakes®. 
Toss the football around at halftime. Don't let yourself get too comfortable lounging in your lawn chair. Get up and move at halftime to burn some calories and get away from the snack table. Toss a football with the kids, or take a walk around the neighborhood.
Watching From Home
Load up on fruits, veggies, and nuts. Most game-day gatherings are full of tempting, not-good-for-you snacks, but you can overcome this by focusing on foods that are high in protein and low in calories. Don't be afraid to allow yourself one of your favorite treats, but move into the kitchen to eat so you're not mindlessly eating while watching the game.  
Be the host, or offer to help. Those hosting the at-home parties are busy cooking, serving, and cleaning – they're spending less time eating and more time putting on the party, which burns calories. If you're not the host that week, offer to help so you can get in on the calorie burning, too. Isagenix pro tip: Take an e+™ to keep your energy up, because hosting is hard work!
At a Restaurant
Order from the "healthy, light, or low-fat" section of the menu. Many restaurants now offer a selection of healthy entrees, so try to choose from one of these. You may even be able to find healthy twists on your favorite game-day snacks, like buffalo cauliflower bites (try our recipe!).
Go to a restaurant within walking distance. If you live near a fun spot to watch the game, try walking there instead of driving the short distance. This is an easy way to ensure you're getting some exercise on game day.
If you're looking for delicious recipes to kick off this season, check out our Spicy Guacamole With Greens, Whey Thins Crusted Chicken, and Apple Pie Bars!