Meet Isagenix Millionaire No. 143!
At 60, Gwen and her husband, Jim, decided to leave Toronto and settled in a retirement community. Gwen had spent the previous 18 years as a secretary, and before that as a stay-at-home mom to her four children.
Though they had a steady income, Gwen knew she wanted to do something to add additional income to their household. She tried selling jewelry and working another business with her husband, but neither stuck. About eight months after settling in to their new home, Gwen's friend Barbara told her about Isagenix products—and the income opportunity.
"I joined April 26, 2004," Gwen recalls. "That day has stuck with me forever." She ended up releasing 15 pounds* and two dress sizes* using the products and was excited about her results and building a business. One of her granddaughters noticed the change and said, "Nana, you're getting taller." Gwen laughs, "I think she saw I was getting leaner and that's how she thought at the time."
Starting from Scratch at 60
"It's almost like my life began all over again at 60," says Gwen. "We had moved to a community where I didn't know anybody." But that didn't hold Gwen back. "I looked at it as an opportunity to get out and meet people."
She joined the Chamber of Commerce and some women's networking groups, which led to meeting four of her team's leading business builders.
"I never realized how much I really enjoyed spending time with people until I got started with Isagenix," she says. Gwen's business has made a big difference in her household. She generally works Monday through Wednesday and aims for ten calls a week, along with follow-up and conference calls.
"What Isagenix has really allowed me to do is take one day every week with my daughter and her new baby, and give my granddaughters a little bit of financial help." Gwen also enjoys having time to exercise, attend her yoga classes, and travel with her husband, who is her biggest supporter. "I love traveling, meeting people, and talking to people," she says. "It's incredible how you can travel and meet people and then bring them into your business!"
Gwen's business has certainly been a success, as she recently reached a major milestone: earning a total of $1 million with her Isagenix business!
What's Next?
A few years ago, as she approached her 50th wedding anniversary, Gwen's goal was to take her family to Italy on a Mediterranean cruise. They didn't quite make the landmark date, but by her 52nd anniversary, they did. They took a cruise and visited the French Riviera, Greece, Morocco, Turkey, and—most importantly—Italy.
Gwen's vision board once again has the French Riviera front and center. She's working hard to earn her trip back with our Billion & Beyond: Together We Will Challenge. "I only had a day there," she recalls. "It would be fabulous to go back!"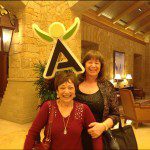 "I found my retirement plan and now I'll never stop doing what I'm doing," says Gwen. And she's confident that anyone can succeed in network marketing, if they work for it. "It's a simple business, but it's not easy. You do have to work at it. Just get in, never quit, and be consistent and persistent. The results will come."
*The weight-loss testimonials presented apply only to the individuals depicted, cannot be guaranteed, and should not be considered typical. A 2008 university study showed a statistically significant weight loss of 7 pounds (3.2 kg) during the first nine days of the Cleansing and Fat Burning System. As with any health or fitness program, a sensible eating plan and regular exercise is required in order to achieve long-term weight loss.