First and foremost, you don't have to be a START member to spread the START Your Life vision! So what are you waiting for? Let's get STARTed. Here are some tools to help you spread the word about the amazing life-changing products Isagenix has to offer. Each one is uniquely developed to speak to those ages 18-35.
START Online University
Log on, and plug in! If you haven't heard about the latest training programs to help you learn, build, and grow your Isagenix business, you're missing out! START Online University launched in December 2015 with incredible success!
This is the perfect opportunity to encourage new Isagenix Associates and Customers to "attend" an event from the convenience of their own home…or yours. It's a great time to sharpen up on foundational product knowledge and business training topics.
            What You'll Learn:
Isagenix Product Education with Gillean Barkyoumb, MS, RD
Foundations of Belief with Mara Pomana and Mary and Jacob Leaf
Nailing the Basics with Jason Lew
Income-Producing Activities with Laura Stevens
Download the START Online University Workbook, and tune in to this incredible training!
START Talks
Join the START team for this six-month START Talk series to learn the skills you need to build and really grow your Isagenix business. These START Ambassadors are here to coach you through whatever is holding you back from reaching your goals.
Tune in each month to the "Six Skills to Help You Grow Your Isagenix Business" START Talk series and build your confidence, cultivate your talent, and develop a team of like-minded leaders who are ready to START their lives! Get watching!
Six Skills to Help You Grow Your Isagenix Business
1. Finding People to Talk to with Emily and Hayden Vavra – now available!
2. Connecting With Others with Ciji Siddons – now available!
3. Setting Appointments and Following Up with Mara Pomana – now available!
4. In May, watch for: Handling Objections
5. In June, watch for: Getting Team Members Started the Right Way
6. In July, watch for: Growing Your Team
This August: Join us at Celebration 2016!
Connect & Get Social
If you're not already a member of the START Facebook group, now is the time to join the global community of team member support. We are so proud of the participation and encouragement that happens within the START Facebook group. Ask questions, gain insight on what fellow STARTers are experiencing, and connect with friends you never knew you had all around the world. Also, don't forget to follow the team's Instagram for inspiring photos and motivational content easily shareable on your own social media channels.
START Videos
There's no easier way to share what Isagenix and START is all about in just a matter of minutes. Share the START Vision with your family and friends by sharing our START videos.
To share the culture and vision of the START Your Life movement, share the "START Your Life" video.
To share the unique income-building opportunity through START, share the "START Your Life Movement" video!
START Magazine & IsaTools To Go App
The latest magazine is hot off the presses and is packed with inspiring stories of Isagenix Associates who have risen above the status quo, offering insights into their success, as well as health, product, and fitness tips. It also includes articles from Mallika Chopra and Michael Norton.
Boost your sharing power with the IsaTools To Go™ app by sending your favorite articles and features with others via text message, email, and social media. This powerful new app also notifies you in real time when your recipient views the content so you are able to follow up right away.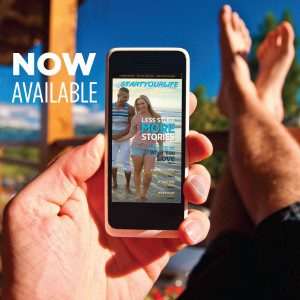 Pick up the new magazine at IsaSalesTools.com. Make sure you have a copy with you everywhere you go with a digital issue of the brand-new IsaTools To Go app. When you purchase 20 copies, you'll get the IsaTools To Go app free for a year.
START Vision Presentation Template
Ready to host your own Isagenix event for a START audience? Download the updated START Vision Tour template PowerPoint to help guide you through the START version of the Experience Isagenix presentation.
For more on START, go to STARTYourLife.com.