Now Available: Your Most Powerful Isagenix Tool Went Turbo
Update 1/17/2019
IsaLife v 1.4 is now available for download in the App Store and Google Play store! Our latest app version contains the following exciting updates:
☑️ Sync with Apple Health through iOS devices such as Apple Watch and iPhone
☑️ Utilize bar code scanning when entering Isagenix products and other food items to the Daily Checklist
☑️ Program participants can return to any day in the past to update their Daily Checklist items
☑️ Updated layouts to the One-Time Order and Lifestyle Rewards (Autoship) pages to simplify the ordering process
☑️ Translated versions in Spanish (US) and French (Canada)
☑️ Complete One-Time Orders using PayPal
They say you never appreciate something until you share it, and that's what an Isagenix Associate does best: sharing something good that can make a difference in someone's life. But, part of sharing is the dreaded collecting and enrolling process. Do you manually set up each new Member? Well, say goodbye to that nightmare and hello to a powerful new update to the IsaLife™ app that will allow you to enroll someone in as little as two minutes or less.
Preconfigure Options for Your New Customers
If you are an Isagenix Associate, head to your Back Office under the "Team" tab where you will find "Manage My Recommended Carts" to pick and customize a system and products for your potential new Customer along with their Autoship order.
1. Select "Create New Recommended Cart."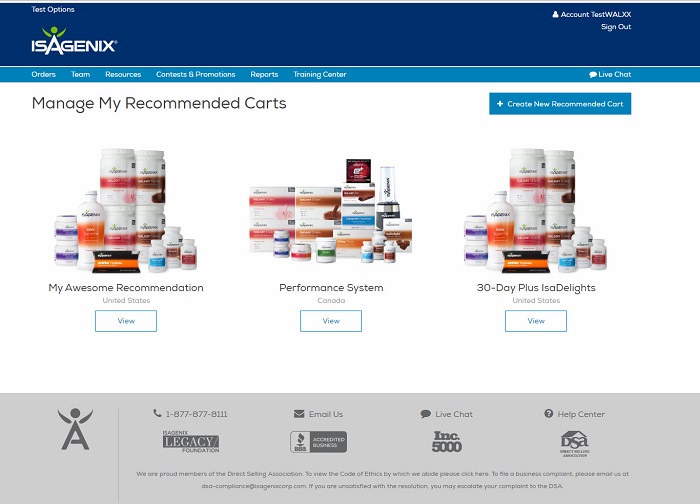 2. Choose Preferred Customer or Customer with Autoship.
3. Pick and customize a system and products for your potential new Customer as well as their Autoship order.
4. Name your recommended cart.
5. Send your new Customer the link through the IsaLife app, and follow up to finish their order.
Read what people are saying about the new IsaLife App Enrollment Feature!
"So cool! This streamlines our life! Thank you, corporate!" – Crystal Lynn
"So awesome to duplicate for future business builders!"  – Jenn McConnell Traylor
"Props to Isagenix for continuing to develop our technology resources! Lead the way!" – Sean Christian Dampier
"Love, love, love this…My least favorite thing is putting people in the computer!" – RaQuett Stroud
"Love this! Set up my first cart and sent it to myself! #Gamechanger Thank you!" – Pamela Morissette Sheedy
"I have been waiting for this FOREVER. So excited!" – Jill Strasser Johnson
"I used the new IsaLife app to send a preconfigured pak to a new enrollee. It was VERY easy and quick. Watch the video, and learn how to do this. It will save you time and effort!" – Doug Johnson
The IsaLife app is a convenient nutrition and fitness tracker, personal coach, and product-ordering platform that now offers quick sign-ups all in one easy-to-navigate app!
Check out everything it has to offer, and download version 1.4 today!