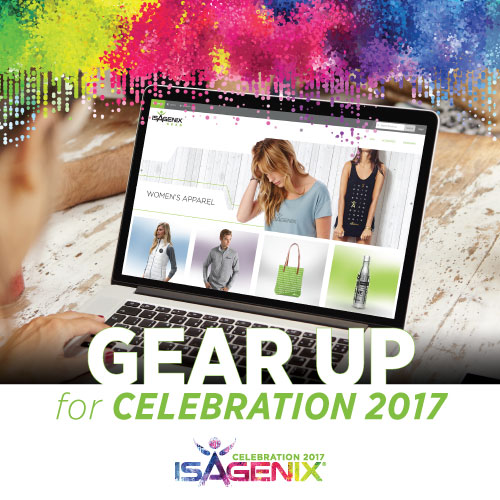 We are so excited to announce the reveal of the BRAND-NEW Isagenix gear line and IsagenixGear.com beginning July 13. Launching just in time for Celebration 2017, there is no better time to purchase new apparel to represent your favorite brand.
Powered by Isagenix
Isagenix gear is the perfect way to not only show others you are fueled by Isagenix, but it is the perfect conversation starter when you are on the go. We've partnered with a new gear company to bring you fresh designs and clothing styles.
Get your hands on the latest Isagenix T-shirts, jackets, yoga pants, and hats beginning July 13. Plus, we offer branded duffle bags, necklaces, pens, and more. Head over to IsagenixGear.com to check out the revamped site, and be one of the first to secure your new gear. Then keep an eye out for even more styles being released at Celebration 2017 in August.
Get Your Gear for Celebration 2017
If you have a ticket to Celebration this year, then you will want to secure your shirts for the event ahead of time. By purchasing your Isagenix Day T-shirts for Monday, Aug. 7, and Share the Shot® T-shirt for Wednesday, Aug. 9, online through the new IsagenixGear.com, you can skip the lines at the store on-site and ensure that you will receive the sizes and styles you want. Have your shirts in hand before the biggest event of the year, and be prepared to dress to impress!
Don't have your ticket to Celebration yet? There are limited tickets left, so head over to the Celebration page now to purchase yours!