UPDATE: The 2017 Seasonal Catalog and its featured products are no longer available for purchase.
By now, you've probably made your lists, and checked them twice, but is everything you're gifting this year nutritious and nice?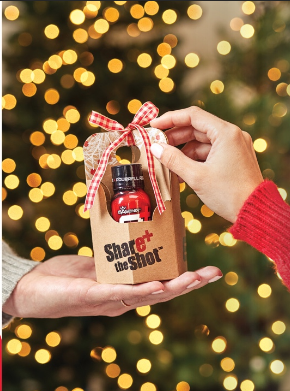 Give the gift of health! Our 2017 Seasonal Catalog features one-of-a-kind gift ideas for everyone on your list this year and also includes some of our most popular products and brand-new recipes worth sharing. It's packed full of festive flavors and promotions such as this one:
Get free e+™ gift holders (set of 6) when you purchase 2 e+ energy shots (any flavor)!
After all, who doesn't need a little pick-me-up this time of year? Share the shot with friends and family, and use your free gift holders to spread a little energy to all.
Need more gift-giving inspiration? Just click, watch, and create your own inexpensive DIY gifts, using these festive videos! They're sure to make your gift-giving spirits bright.
And let's not forget the big guy…Will you be leaving cookies out for him this year? If so, why not offer him Cookies & Cream Flavor IsaLean™ Shake instead? It will provide all the protein and fuel he needs to make his trip around the world in one night.
Don't Wait Until It's Too Late!
Shop from the comfort of home or even on the go, as our seasonal catalog, aptly named the Healthy Giving Guide, is available online, making your shopping experience simpler and more convenient. Celebrate the season of giving while staying focused on healthy living, and enjoy some nutritious and delicious seasonal treats!
The Healthy Giving Guide is available to all North American Customers through Dec. 31. To ensure delivery before the holidays and product availability, don't wait to order your seasonal specials. Get your shopping done today!