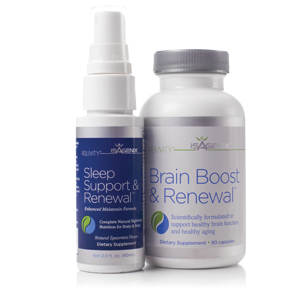 Spread the word! For one week only, you can get the new Isagenix® Brain and Sleep Support System for an incredibly low, one-time-only price and experience its amazing results. But remember, this price is only good for one week!
Available Monday, August 27 to midnight Sunday, September 2* get the one system that offers total peace of mind for a whopping $43 and 29 BV. That's an additional $6 savings on top of the already $8.90 discount you receive when you purchase these two products as a system!
Formulated by Isagenix Scientific Advisory Board member Dr. Michael Colgan and Isagenix Scientists, this total cognitive health system is designed to work seamlessly with your complete Isagenix whole-wellness program. The two-product system includes Brain Boost & Renewal™, power brain-boosting nutrients, and Sleep Support & Renewal™, a melatonin-infused spray, that when taken daily provides a more restful night's sleep.
What's more, the Brain Boost & Renewal:
Supports healthy brain function and increased cognitive function
Improves mental clarity, focus, concentration and memory
Optimizes your ability to learn new information
And, the Sleep Support & Renewal:
Reduces the time it takes to fall asleep
Improves quality of sleep
Increases total time of sleep in persons who suffer from sleep restriction or altered sleep 
For more information on this new system, visit Isagenix.com's "Products" page and select "Targeted Solutions" from the dropdown menu.
*Offer available from 12:01 a.m. Monday, August 27 to 11:59 p.m. Sunday, September 2 (EST). Eligible on US and CA Wholesale orders only. Limit of 10 per order.