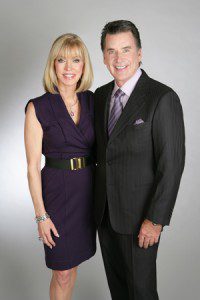 Save $100 on your ticket to 2012 "Your Future Starts Today" Celebration and have a chance to win dinner with Isagenix Co-Founders Jim and Kathy Coover!
All you have to do is purchase your first ticket to Celebration between April 2 and midnight Pacific Daylight Savings Time on April 30, 2012, email Success@IsagenixCorp.com and you'll be included!
Enter the "Dine in Style With Jim and Kathy Coover" contest for your chance to be one of four winners randomly chosen to bring the guest of your choosing, take a VIP limo ride to one of Jim and Kathy's favorite Phoenix restaurants and dine in style with the power couple one night during Celebration August 9-12, 2012 in Phoenix, Arizona.* If you're chosen, we'll be in touch with you by May 7!
Simply visit your Back Office "Events" page, select "Corporate Events" and "Celebration" to purchase your first ticket to our 10-year anniversary event right away! Early-bird ticket pricing ends April 30 and ticket prices will increase to $299 per ticket, so grab yours while you can and enjoy this extra perk.
With three stellar keynote speakers including world-renowned economist and speaker Paul Zane Pilzer and authors Jack Canfield, co-creator of the Chicken Soup for the Soul series, and John Gray, author of Men are from Mars, Women are from Venus, plus new product announcements, unbeatable professional training and more, you don't want to miss out! This event WILL sell out!
Learn more about 2012 Celebration at IsagenixCelebration.com.
Here's the contest flyer with all the details.
*Rules: Open to all Associates in the U.S., Canada, Puerto Rico, Mexico, Taiwan, Hong Kong, New Zealand and Australia; only one entry per individual Associate permitted. Must have purchased a ticket between Monday, April 2 and Sunday, April 30, 2012 at midnight PDST and sent an email to Success@IsagenixCorp.com to be included in contest. Four randomly-chosen Associates will be awarded admittance for themselves and one guest to enjoy a limo ride and attend a private dinner with Jim and Kathy Coover at 2012 Celebration. Prize is non-transferable with no cash value. Must be present at the event to receive prize or prize will be forfeited. Prize winners will be notified by Monday, May 7, 2012.