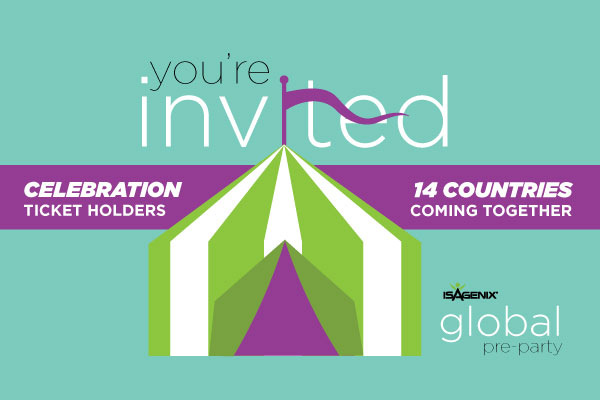 It's a year of firsts for Isagenix! At Celebration, we revel in recognizing our incredible international leaders, offering the best training in the world, and debuting products and promotions to propel your business to unwavering new heights!
When we talk about our company rising to new heights, we mean it. The day before Celebration begins, you're invited to mix and mingle at our very first Global Celebration Pre-Party. Enjoy hours of networking with leaders from around the world during this amazing event. Watch as the festivities of old circus days come to life with exotic acrobats dancing from high ceilings while enjoying a refreshing assortment of themed beverages and culinary delicacies!
After all, this is an international affair to celebrate all Associates across our 14 countries and top international leaders coming together to represent Isagenix. And you won't need a postcard to say you were there. You and your team members will connect and network with top Isagenix leaders from across the globe!
The Global Celebration Pre-Party begins Saturday, August 15 and will run from 8 p.m. to 10 p.m. at the Sails Pavilion at the San Diego Convention Center. Tickets can be purchased in your Back Office for $75, but they are only available to those with a Celebration ticket.*  If you do not have a Celebration ticket to this sold-out event, Associates are selling extra tickets online at the Isagenix Events Facebook Group.**
And the best part? One-third of the ticket proceeds—that's $25—will be donated to Make-A-Wish®.
To register for the Global Celebration Pre-Party, log in to your Back Office and select the yellow "View and Manage Events" button, click "Company Events," and select "Celebration" in the "Event Type" drop down.
*Pre-Party tickets are limited to two per person. Please note you must have a Celebration ticket to attend the Global Pre-Party. If you purchase a Pre-Party ticket and do NOT have a Celebration ticket by the time of the event, you will be unable to attend. All sales are final, no refunds or returns. If tickets do not sell out, any extras will be sold at Registration.
**All monetary transactions must be completed between Associates and without the help of Isagenix and its Events team.