As of Dec. 06, 2018
We've got something that will perk you up!
You can receive 20 percent OFF any two bags of Isagenix Coffee for a limited time!
Instead of saying ho-ho-ho, you'll be shouting for a cup of our joe! We're headed into the busiest time of year, and what better way to start your days than with a warm mug of goodness?
Here are the details:
Get 20 percent OFF the purchase of any two bags of coffee.
Use promo code GIFTCOFFEE at checkout.
Promo runs Dec. 6-13, 2018.
Purchases can be made directly from our Healthy Giving Guide.
Ditch the winter coat! We've got the perfect bundle to help keep you cozy all season long!
Grab our Holiday Bundle that includes seasonal products best enjoyed this special time of year.
Available for a limited time, if you order a Holiday Bundle, here's what you get:
IsaDelight™ Variety Pack.
SeasonsJoy™ Essential Oil Blend.
Salted Caramel IsaLean™ Shake.
Vanilla Cranberry Almond IsaLean Bar.

FREE!

Raspberry Cheesecake IsaLean Shake.
We launched the Healthy Giving Guide on IsagenixLive™, and it's a one-stop shop for all your holiday shopping this season. Didn't catch the live stream? No problem, you can watch the replay here and catch up on all the goodness we shared!
Check out all the exciting promotions in the the Healthy Giving Guide RIGHT HERE! 
We miss you! Head into the holidays with this special offer.

To help you reignite your Isagenix journey and fuel your body with quality nutrition through the holidays, we're offering past Customers an exclusive opportunity to get started with Isagenix again.
Starting now through Dec. 31, when you place an order with Isagenix and sign up for Autoship, we would love to welcome you back with:
A FREE one-year membership – a US$29 value! Receive the lowest price on Isagenix products all year round.
10 percent off of your first order as a re-enrolled Customer.
A US$10 coupon on your second order.
Your previous spot on your Enrolling Sponsor's Placement Tree – This could be huge if you choose to become an Associate and take advantage of the Isagenix Team Compensation Plan. By reactivating your previous position, you accumulate the business volume on all the purchases of those who have joined after you!
IsaDelivery, the Most Flexible, Convenient Way to Save on Shipping
Update: This promotion has officially ended, for those that purchased IsaDelivery you have 6 months from your purchase date to take advantage of the shipping savings on up to 12 orders.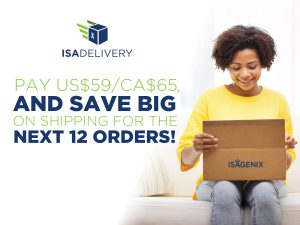 For US$59/CA$65, Isagenix Members in the United States, Canada, and Puerto Rico can purchase IsaDelivery, a shipping-savings promotion that covers ground shipping on up to 12 orders over the Members next six months!* Simply purchase IsaDelivery from your Back Office like other Isagenix products, and Isagenix will take care of the rest!
FLEXIBLE
IsaDelivery is as flexible as our Members need it to be. For example, IsaDelivery doesn't require:
Any minimum purchase amount.
Any specific order type (order must contain shippable products).
A minimum number of orders in a month.
 CONVENIENT
It's simple. The shipping charge on each of the 12 orders is automatically removed at the time the order processes. Members don't have to change a thing!
 SAVINGS
Now you can save on shipping, including Autoship and wholesale orders! Members can order what they want, when they want, and enjoy the savings.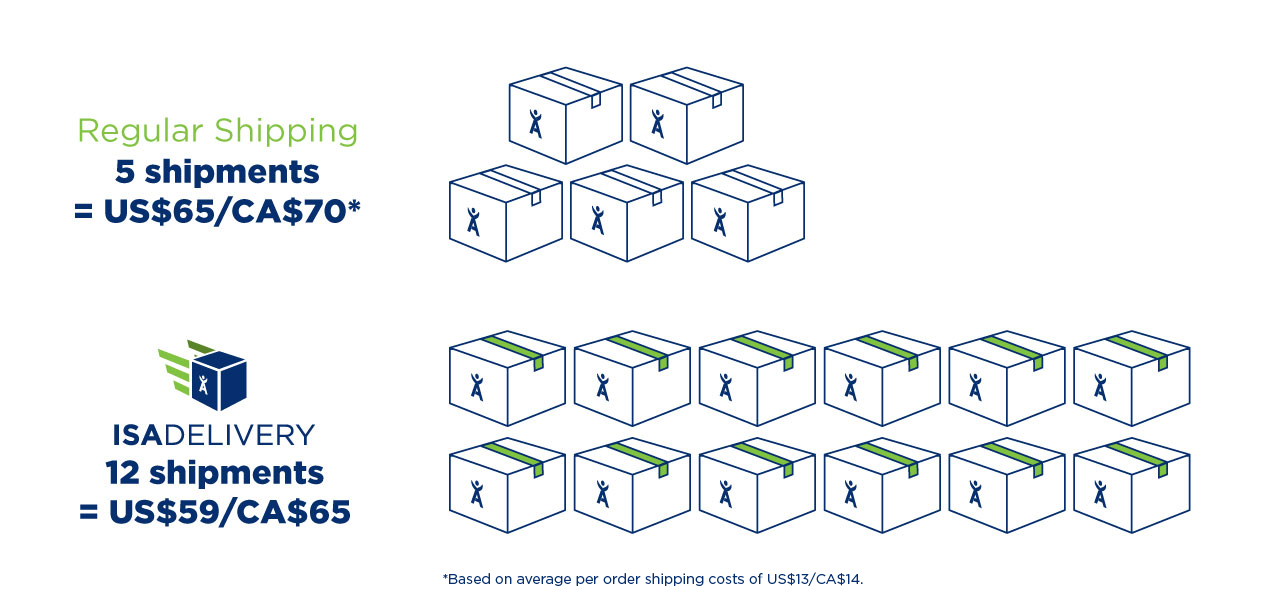 Start saving today.
*Additional terms and conditions apply. Please see details and FAQ here.
MAKE THE MAGIC HAPPEN! It's Time to DASH TO DISNEY
The Dash to Disney is all about growing and supporting the entire Isagenix family! Accumulate points by welcoming qualifying new Customers and Associates who join between July 30-Nov. 18, 2018, in both your 1PET and your 2PET! That's everyone you personally enroll as well as everyone they enroll during this period. For every point of BV these new Customers and Associates order, you earn points toward Dash to Disney.
Check out these magical prizes:
ALL 10,000+ POINT EARNERS will get four 3-day Walt Disney World Park Hopper Tickets for use between March 14-18, 2019, in Lake Buena Vista, Florida.
TOP 250 TOTAL POINT EARNERS (top 200 in the U.S. and Puerto Rico, top 50 in Canada) will get four 3-day Walt Disney World Park Hopper Tickets plus a 4-night stay at Disney's Grand Floridian Resort & Spa for use between March 14-18, 2019, in Lake Buena Vista, Florida.
TOP 125 TOTAL POINT EARNERS (top 100 in the U.S. and Puerto Rico, top 25 in Canada) will get four 3-day Walt Disney World Park Hopper Tickets plus a 4-night stay at Disney's Grand Floridian Resort & Spa plus US$1,000 travel cash for use between March 14-18, 2019, in Lake Buena Vista, Florida.
The Dash to Disney promotion is open to all Associates in the United States (including Puerto Rico) and Canada. To participate, an Associate must opt in through the "Contests & Promotions" tab in the Back Office. Isagenix reserves the right to audit, adjust, or deny any volume, compensation, recognition, or other incentives awarded during or as a result of this promotion to ensure the spirit of the promotion is achieved. Qualifications are subject to change by Isagenix at any time without prior notice. The value of nonmonetary awards such as accommodations and tickets may be reported as taxable income. Consult with your tax professional to ensure income is properly awarded. Unless otherwise stated, awards are nontransferable (3-day Park Hopper tickets earned from the 10,000-point milestone are transferable) and will not have a cash equivalent. You must maintain active Isagenix Independent Associate status and be in good standing as of March 14, 2019, to receive the incentives from the Dash to Disney promotion.
Introducing an Even Better Way to Recognize Isagenix Associates!
Enjoy New Isagenix Rank Advancement Rewards!
Path With Purpose encompasses everything that helps you advance your rank and all the goodies you can look forward to receiving for your achievements. We introduced exciting new gifts for each level, and in some cases, an array of gifts for you to choose from. It's never been a better time to be an Isagenix Associate – we're talking about custom Isagenix swag and brand name gifts like Ray-Ban sunglasses, TUMI luggage, and jewelry from the iconic Tiffany & Co!
Check out more about the Path With Purpose here.
Subscribe to the Business Feed
Use the new IsaLife™ Success Plan as your trusty workbook that will guide you through actionable steps to build your business. The IsaLife Success Plan helps you create and follow measurable goals, manage your contacts, know how and when to follow up with prospects, and more!
Once you have your Success Plan (get it here), sign up to get helpful training texts to keep you on track with your Success Plan.
JUST TEXT:
IsaLifeEN to 88588 (U.S. and Puerto Rico – English)
IsaLifeSP to 88588 (U.S. and Puerto Rico – Spanish)
IsaLifeEN to 91011 (Canada – English)
IsaLifeFR to 91011 (Canada – French)
IsaLifeANZ to 61409649367 (Australia and New Zealand)
* This statement has not been evaluated by the Food and Drug Administration. This product is not intended to diagnose, treat, cure, or prevent any disease.
The ability to earn income under the Isagenix Compensation Plan depends on many factors including an individual Associate's business, social, and sales skills; personal ambition and activity; availability of time and financial resources; and access to a large network of family, friends, and business contacts. Isagenix cannot and does not guarantee any particular level of earnings. Even Associates who dedicate a significant amount of time, effort, and personal funds may not achieve a meaningful level of success. For average earnings, refer to IsagenixEarnings.com.
No promotional offer is transferable or redeemable for cash, cash equivalent, or credit unless otherwise stated. Other restrictions may apply. Isagenix has the right to end or change its promotions at any time without notice.