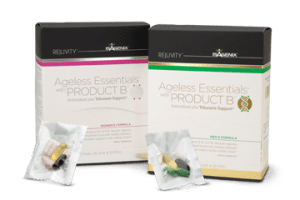 Congratulations to the 417 Associates who took part in last month's Enroller's Club promotion and won a box (or two!) of the most complete multivitamin pack on the market: Ageless Essentials™ with Product B™.
Created by our Global Product and Development Team, which has more than 100 years of collective, hands-on experience in nutrition, biology, chemistry, product development and quality assurance, Ageless Essentials with Product B contains your daily dose of vitamins, minerals, antioxidants and special age-defying nutrients. Each individually wrapped A.M./P.M. packet includes more than $550 worth of nutrients packed into twice daily Essentials for Men™ or Women, Ageless Actives™, IsaOmega Supreme®, C-Lyte® and Product B.
By taking your daily vitamins, you're supporting your immune, brain, vision, joint and cardiovascular health and combatting the key age-defying mechanisms like exposure to toxins, stress, obesity and poor nutrition.
Wondering if you made the list? Check out if you are 1 of 417 winners now taking your health to the next level.
Looking to take advantage of next month's Enroller's Club promotion and win big? Click here to find out how.