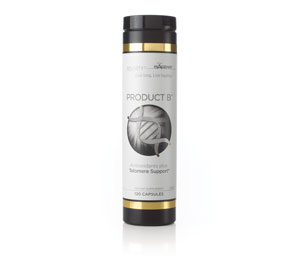 Isagenix® wants you to live long and live healthy. And now, our new, scientifically formulated Product B Antioxidants plus Telomere Support is ready to help you get there!
The new Product B contains a full spectrum of natural, bioactive antioxidants to help protect your cells against harmful free radicals, which can accelerate aging and contribute to poor health.
And, if you want to experience optimal telomere benefits with Product B, we recommend that you also incorporate our Pillars of Health as part of an Isagenix lifestyle system.
Our Pillars of Health include Cleanse for Life®, Ionix Supreme®, IsaLean® Shake and Ageless Essentials™ Daily Pack.
The best part? You can even get it in our new Ageless Essentials™ with Product B! Save money (and time!) by getting everything you need for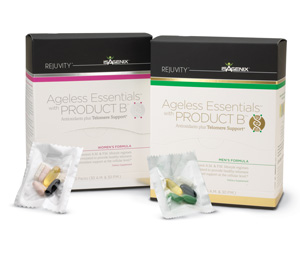 youthful aging packaged in easy-to-use A.M. and P.M. packets.
By incorporating all of these incredible, synergistic nutrients into your daily routine, you'll be infusing your body with exactly what it needs to function at its peak potential.
Here's why taking care of your telomeres and replenishing your cells can help you on your pathway to youthful aging:
And, if you're from Canada, we have a special process for you to follow so you can order Product B for personal use only. Get the details here.
Get ready to experience youthful aging at its finest with this ground-breaking new product.  Visit your Back Office or contact Customer Care at 1-877-877-8111 (*All calls will be recorded for quality purposes.) to order a bottle of Product B or a box of Ageless Essentials with Product B right away!
Here's a quick flyer with more details on Product B.
Also, do you know what's aging you? Check out this video for some insight:
To learn more about Product B and get helpful flyers and more, visit Stayoung.info or IsagenixProductB.com today.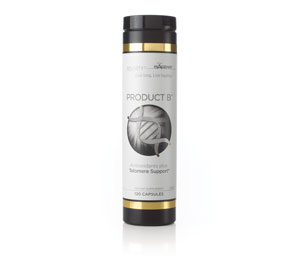 Isagenix® quiere que usted viva más y mejor. ¡Y ahora nuestro nuevo Product B Antioxidantes más apoyo para sus telómeros formulado científicamente está listo para ayudarle a lograrlo!
El nuevo Product B contiene un amplio espectro de antioxidantes bioactivos naturales que protegen sus células de los dañinos radicales libres, los cuales pueden acelerar el envejecimiento y contribuir a empobrecer su salud.
Y si desea experimentar óptimos beneficios para sus telómeros con Product B, le recomendamos que también incorpore nuestros Pillars of Health como parte de un sistema de estilo de vida de Isagenix.
Nuestros Pillars of Health incluyen Cleanse for Life®, Ionix Supreme®, IsaLean® Shake y Ageless Essentials™ Daily Pack.
¿Lo mejor de todo? ¡Incluso puede comprarlo con nuestro nuevo Ageless Essentials™ with Product B! Ahorre dinero (¡y tiempo!) obteniendo todo lo que necesita para mantenerse joven en sobres fáciles de usar A. M. y P. M.
Y si vive en Canadá, existe un proceso especial que puede seguir para comprar Product B sólo para uso personal. Conozca los detalles aquí.
Prepárese para mantenerse joven de la mejor manera con este nuevo  y revolucionario producto. ¡Visite su Oficina Virtual o contáctese con Servicio al Cliente al 1-877-877-8111 (*All calls will be recorded for quality purposes.) para comprar un envase de Product B o una caja de Ageless Essentials con Product B ahora mismo!
Aquí tiene un rápido documento imprimible con más detalles  sobre Product B.
Para conocer más sobre Product B y obtener útiles documentos imprimibles, visite Stayoung.info o IsagenixProductB.com hoy mismo.